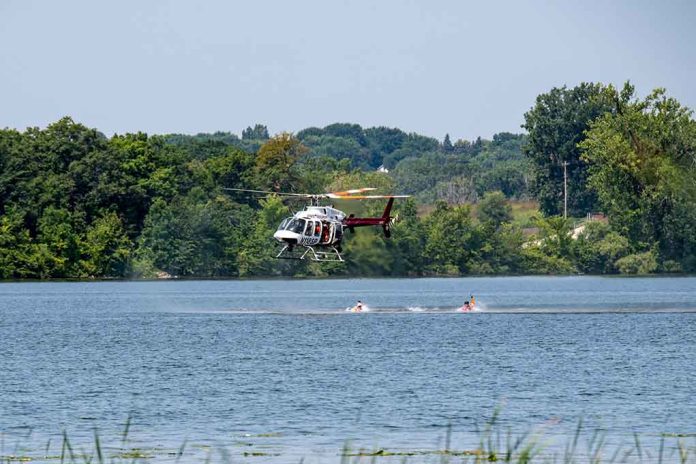 Murder-Suicide Rumors Swirl As 3 Innocent Bodies Are Pulled From Lake
(ReliableNews.org) – On Friday, July 1, 23-year-old Molly Cheng contacted Minnesota police to tell them her husband, 27-year-old Yee Lee, shot himself. Ramsey County deputies arranged for social workers to come to the scene to help the young widow with her children. She told authorities she would be fine, but several hours later, she and her kids were dead.
According to reports, a relative of Cheng called the police around 4 p.m. to report she'd said she was going to kill herself and her kids. A lieutenant made contact with her and asked her to meet him at her home. When she didn't show up, authorities issued a statewide alert and began to track her phone. They were eventually led to Vadnais-Sucker Lake Regional Park where they found her vehicle.
Officers found three pairs of children's shoes lined up along the shore. After a search, deputies discovered 4-year-old Quadrillion T. Lee. After midnight, they found 5-year-old Phoenix Lee's remains then later that morning discovered the mother Cheng, and later, 3-year-old Estella Zoo Siab Lee.
Three children whose bodies were found in a suburban Minneapolis lake over the holiday weekend died in drownings that were classified as homicides, and their mother died of a drowning that was suicide. https://t.co/6Ncf08v1tH

— KX News (@KXMB) July 6, 2022
The Ramsey County Sheriff's Office is investigating the incident as a triple murder-suicide. Police have not released a motive for the deaths. The Sahan Journal reported that Chong Lue Lee, the father of Yee Lee, expressed grief over the children's deaths saying he wished it had not happened to them. He urged people to not speculate about what might have caused the deaths.
Copyright 2022, ReliableNews.org