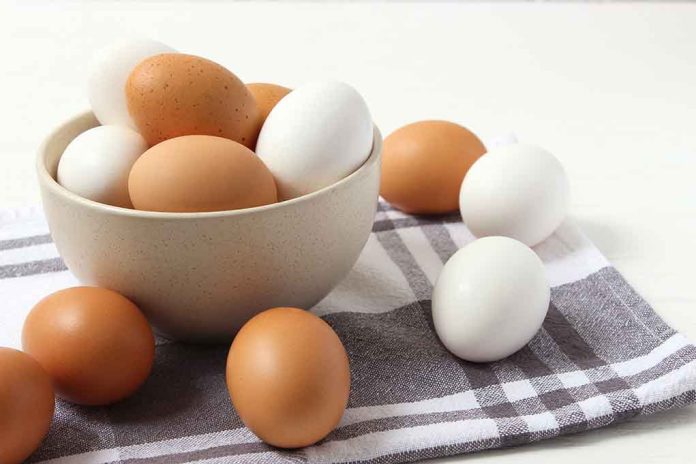 (ReliableNews.org) – On January 12, the Bureau of Labor Statistics released its monthly Consumer Price Index (CPI) report for December 2022. The data gives the public information about inflation and prices of goods in the US economy. Although the CPI report showed that annualized inflation had slowed down to 6.5%, the food index was over 10% more when compared to December 2021. Eggs, in particular, were up a whopping 11.1% year over year.
On February 1, Newsweek outlined the five states hit hardest by the increase in egg prices across the US. The regions that saw more than a 100% increase in the cost of the household staple included South Dakota, Wisconsin, Minnesota, Nebraska, and Iowa. According to a Statistica chart shared by the news outlet, egg prices in the US overall increased by nearly 60% in one year.
It used to be that eggs were an inexpensive staple in most American kitchens; now, many consumers are being priced out of the market. The question is: Why? Some point to preemptive prevention of a bird flu spread and inflation, while others say this isn't the case and are accusing companies of price gouging.
With egg prices more than doubling in the past year, calls are coming for an investigation into possible price gouging.

The spike in egg prices has been attributed to the millions of chickens that were slaughtered to limit the spread of bird flu. https://t.co/GnkCmpH78M

— The Associated Press (@AP) January 25, 2023
Senator Jack Reed (D-RI) recently wrote a letter to the Federal Trade Commission (FTC) Chair Lina Khan, asking the agency to investigate the cause of the rising prices of eggs. The lawmaker wants to know if companies are artificially increasing the cost of the staple in order to rake in profits or if there is a legitimate reason for the hike. Reed claims that small producers in the egg industry have largely succeeded in keeping their prices stable while bigger companies have not — and this should spark a probe into the matter.
The senator noted many Americans are already struggling to buy the bare necessities, urging Khan to get to the bottom of the issue.
Copyright 2023, ReliableNews.org