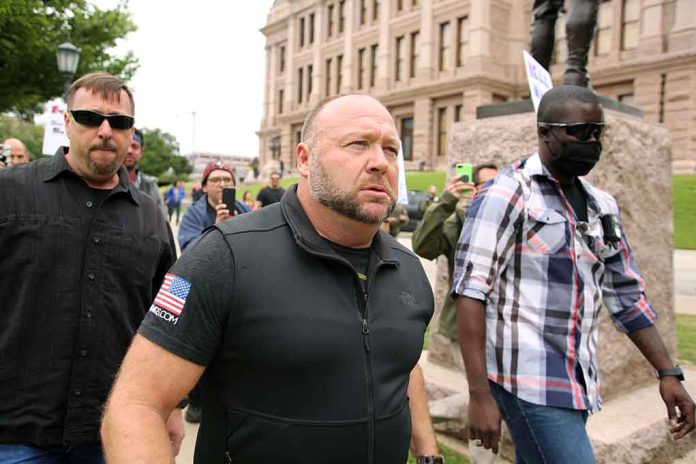 Alex Jones' Alleged Money Shifting May Leave Sandy Hook Families Hanging
(ReliableNews.org) – To say that provocateur Alex Jones has had a bad couple of years would be an understatement. Courts have ordered the InfoWars founder to pay almost $1.5 billion to the Sandy Hook Elementary School victims' families. A new bombshell report accuses Jones of moving money around to hide it.
In 2020, Jones allegedly began moving millions of dollars around, according to The Washington Post. Financial records reportedly show he took money from Free Speech Systems and placed it into other companies he controls along with his friends and relatives. There is a concern that the money is now out of reach to the families who have been awarded millions in defamation lawsuits.
As the potential for damages in the Sandy Hook defamation case mounted, Alex Jones' Free Speech Systems moved $55M into a company he owns with his parents, started paying his personal trainer $100K a week and paid a company managed by his sister $240K. https://t.co/8AsjyeBWm5

— Rebecca Ballhaus (@rebeccaballhaus) November 21, 2022
Some of the transactions allegedly made by Jones are paying a personal trainer $100,000 each week to help him ship supplements and other items. He's also accused of paying a company managed by his sister $240,000. As for his own company, he has written promissory notes worth $55 million to pay for debts owed to a company called PQPR Holdings. The mysterious company is actually owned by Jones and his parents.
The financial moves pushed Free Speech Systems into bankruptcy. Now, Sandy Hook families are in danger of ending up in court fighting with companies he owns himself to get the money he owes. Whether or not that is going to be allowed will be up to a bankruptcy court.
Copyright 2022, ReliableNews.org