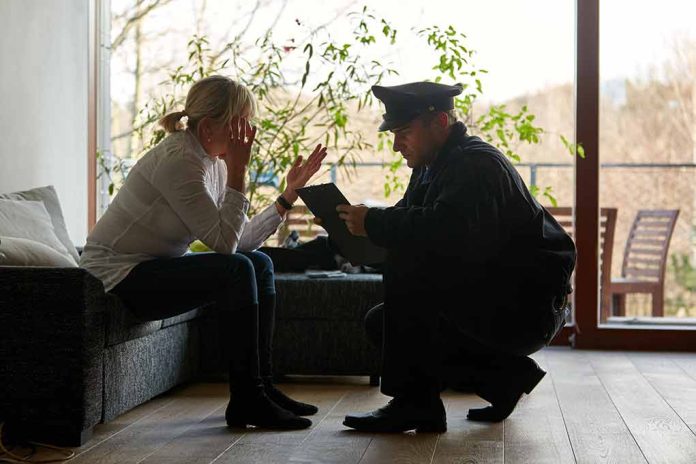 (ReliableNews.org) – In May 2022, Officer Emily Hirshowitz from the Ossining Police Department in New York reportedly claimed she had been receiving harassing text messages. According to Rockland/Westchester Journal News, Hirshowitz said one or more of her fellow officers were involved in sending messages from several phones calling her names and suggesting she kill herself. More than a year later, Hirshowitz herself is under arrest.
What happened?
On July 2, the New York Post reported that prosecutors charged Officer Hirshowitz with four counts of falsely reporting an incident and multiple counts of filing a false instrument — a felony. According to investigators, the alleged victim, in this case, seems to be the one who sent the harassing text messages to herself for reasons unknown.
After initially complaining about receiving the communications in question, she brought up the issue again with investigators a few months later. That time, the officer provided screenshots of the colorful and disturbing messages to provide proof of their existence. Those investigating the matter, her fellow police officers, and other officials in the area were taken aback by the escalating situation, prompting them to call on the district attorney for help.
Suddenly, Hirshowitz reportedly wanted to drop the matter, but it was too late because the people now aware of the communications wanted to get to the bottom of the issue. Investigators quickly realized the officer's complaints might not have been on the up and up and turned their attention toward her as the source of the alleged harassment.
Investigation and Punishment
According to reports, investigators obtained a search warrant for Hirshowitz's mobile device containing the messages and her iCloud account. The information gathered apparently showed the origins of the communications stemmed from devices controlled by the officer herself. The investigation also apparently revealed that another officer, Louis Rinaldi, could have been involved in the scandal somehow — popping up multiple times. That officer previously left the force for a different matter.
Hirshowitz is now suspended from the force pending investigation but is still receiving pay from Ossining PD. Her attorney, Paul DerOhannesian, reportedly told the Journal News that the case was complex, promising that those involved will unravel the "mystery" as more information comes to light.
Acting Ossining Police Department Chief, Captain Brendan Donohue, has not made a statement to the press about the matter. The Daily Wire reported that Hirshowitz is due for an appearance in court on July 12, but the stage at which her case stands is unclear.
Copyright 2023, ReliableNews.org