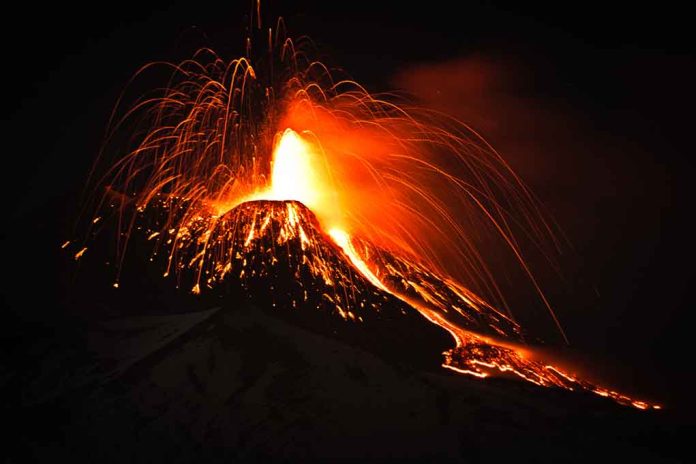 American TRAGEDY – Volcano Accident Reported
(ReliableNews.org) – Since the rise of social media, people have done incredibly stupid things to get the perfect selfie. Multiple deaths have occurred as a result. An American tourist in Italy recently fell into the world's most dangerous volcano while doing just that.
On Saturday, July 9, 23-year-old Philip Carroll and three relatives ignored warning signs and climbed to the top of Mount Vesuvius. While at the top of the volcano, the Baltimore resident pulled out his phone to snap a photo. His phone fell into the crater and when he tried to grab it, he slipped and fell inside, but managed to stop his fall and hang on to the side.
Carroll got stuck inside of the volcano which is famously known for destroying the Roman city of Pompeii in AD 79. Guides saw what happened through binoculars and rushed to the top of Vesuvius to pull him out with ropes.
American tourist Philip Carroll, 23, fell into Mount Vesuvius after taking a selfie and dropping his phone, but survived — suffering bruises and scrapes on his back, legs and arms. https://t.co/xr9chpfs1J pic.twitter.com/Tksf92NrrQ

— CBS Mornings (@CBSMornings) July 13, 2022
Fortunately, Carroll survived the fall. He only had scratches and bruises on his body. Italian official Gennaro Lametta posted photos of the injured tourist and spoke about the incident on Facebook. He said Carroll was unconscious when he was finally pulled from the volcano.
Carabinieri police took Carroll into custody. It's not yet clear what charges he will face. The incident is a reminder of just how important it is to heed warning signs while visiting any tourist attraction, especially in another country.
Copyright 2022, ReliableNews.org