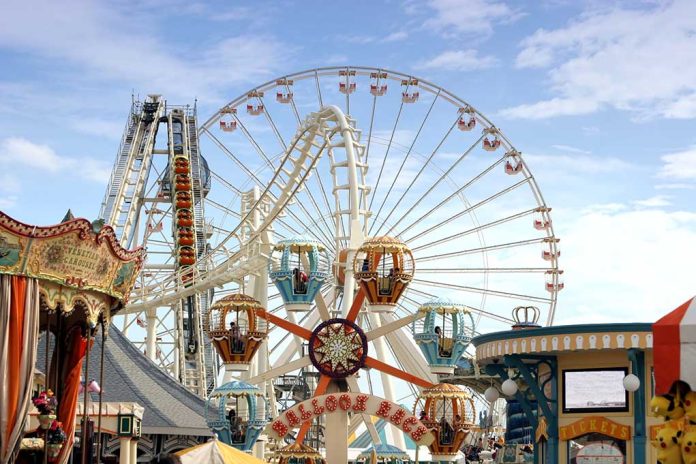 7 Injured After Amusement Park Ride Derails
(ReliableNews.org) – Silver Dollar City Attractions is a theme park set in the Ozark Mountains near Branson, Missouri. Guests can enjoy the 1880s theme atmosphere, cruises, water rides, and roller coasters. One of the most famous attractions in the park is the Frisco Silver Dollar Line, a train ride complete with a staged stick-up.
On October 26, the Line derailed with a full passenger load, injuring seven aboard. They were all taken by ambulance to the hospital for treatment. Luckily, none of the injuries were life-threatening. An investigation by the Division of Fire Safety is ongoing, and there are no further details on the cause of the crash — officials said the park's operating permit was up to date.
The @MoFireMarshal Amusement Ride Safety Unit investigation is continuing this morning with no determination made at this preliminary stage. The ride had an up to date operating permit and Silver Dollar City is fully cooperating with the investigation. https://t.co/noexWdpvMo

— Div. of Fire Safety (@MoFireMarshal) October 27, 2022
Silver Dollar City released a statement informing the public about the incident. Park reps said emergency responders onsite took care of the injured passengers until first responders arrived on the scene. The tweet said workers will provide updates when they can, but they're concentrating on supporting their guests at the moment.
The fire safety group said park officials are fully cooperating with the investigation. The train ride has been a cornerstone of Silver Dollar City since 1962. It takes guests around the park and is a great way to see the beauty of the Ozarks, especially in the fall when nature reveals its colorful beauty.
Copyright 2022, ReliableNews.org