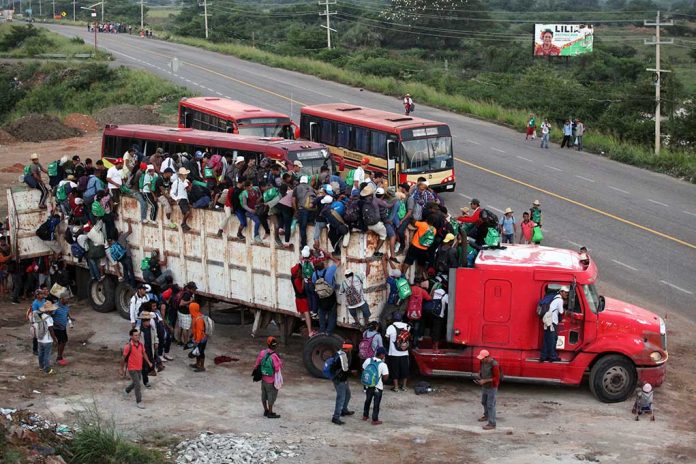 Migrant Army Swells To Over 50,000 At U.S.-Mexico Border
(ReliableNews.org) – President Joe Biden's plans to end Title 42 were derailed when District Judge Robert R. Summerhays in Louisiana ruled in favor of conservative state attorneys general who want the rule to remain in place. The public health policy, enacted during the pandemic, allows DHS to quickly deport migrants who enter the US illegally. A new report indicates there are a startling number of migrants waiting in Mexico to enter America.
According to an exclusive Axios report, journalists reviewed internal government documents showing as many as 50,000 people are waiting south of the border to be let into the US. The documents also revealed that as many as 8,000 migrants try to enter the US every day, including immigrants from Haiti, Cuba, and Peru. ICE is releasing upwards of 2,500 undocumented immigrants into the US every single day along the border.
Republicans responded to the report with scorn for the Biden administration. Senator John Kennedy (R-LA) asked why the president is destroying a tool to combat the immigration crisis if he doesn't want open borders.
"As many as 50,000 migrants are waiting in Mexican shelters for a chance to cross the border, hoping to run out the clock on Title 42."

If Biden isn't committed to open borders, why is he destroying a key tool we have to secure the border? #BorderCrisis https://t.co/fIO8gHwqtY

— John Kennedy (@SenJohnKennedy) May 26, 2022
House Republican Conference Chairwoman Rep. Elise Stefanik (NY) said it's time to secure the border.
If Joe Biden is allowed to lift Title 42 the #BidenBorderCrisis will get infinitely worse.

It's past time we secure our southern border and put #AmericaFirst. https://t.co/MLgF2agGBP

— Elise Stefanik (@EliseStefanik) May 26, 2022
Meanwhile, Vice President Kamala Harris has been completely silent about the ongoing crisis despite having been put in charge of solving the problem more than a year ago. The only thing standing between those 50,000 immigrants and the US is one judge's ruling, but is that really enough?
Copyright 2022, ReliableNews.org