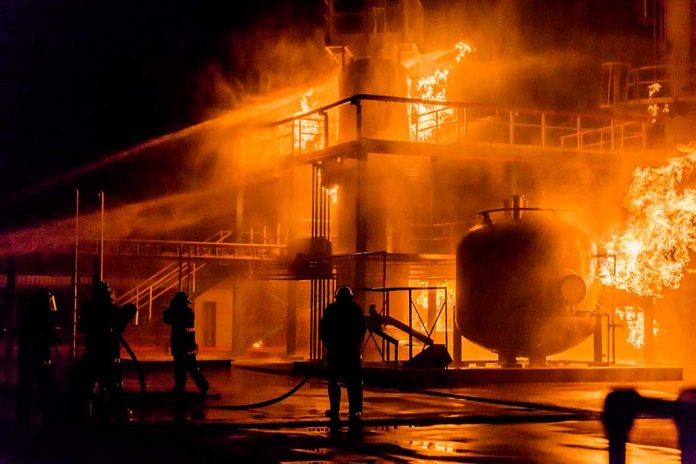 (ReliableNews.org) – China isn't known for being a country with robust regulations unless it has to do with the speech and personal freedoms of its citizens. When it comes to the manufacturing industry, there's not a lot of oversight and control. The result has been a number of recent accidents.
On January 15, the Panjin Haoye Chemical Company, a petrochemical plant, exploded in Panjin, Liaoning province, at 1:30 p.m. local time. Workers were reportedly performing maintenance on an alkylation facility. According to Newsweek, the industrial accident was the result of a pipe leak. Firefighters had a difficult time extinguishing the flames due to the chemicals involved.
At least five people died in the fire, and eight people were still missing at the time of this writing. Residents heard the sound of the explosion up to 25 miles away from the chemical plant, showing just how powerful it was. The company employs roughly 2,500 employees and has been ranked in the top 100 petrochemical companies.
The explosion was heard some 25 miles away, local residents said. https://t.co/Sb5h9hKH9a

— Newsweek (@Newsweek) January 17, 2023
The explosion in Panjin comes just months after another deadly fire at a factory in Anyang in Henan province, that sold a range of industrial products. Early reports indicated electrical welding protocols that didn't meet safety standards as the reason for a blaze that killed at least 38 people. More than 200 first responders and 60 firefighters responded to the accident.
In 2019, an explosion in Yancheng at a chemical plant killed 78 people and destroyed homes for miles around. Four years prior, in 2015, 173 people, including more than 100 firefighters, died in an explosion at a chemical warehouse.
Accidents are commonplace in the country as the result of the government's failure to properly enforce safety regulations. Some companies are able to get away without any supervision at all, creating a dangerous situation for their workers. High-level corruption is also to blame for some of the unsafe conditions in the country.
Copyright 2023, ReliableNews.org