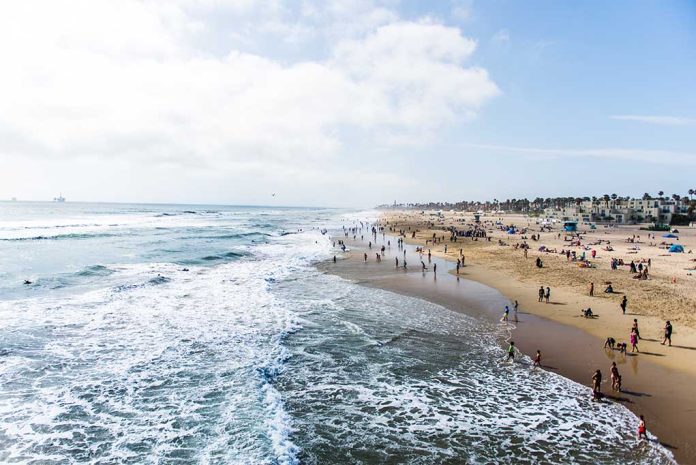 (ReliableNews.org) – America would not be able to function without the energy industry. Of course, any time something foreign is introduced to the environment, it creates a risk to the existing ecosystem. There's a concern that wind energy projects could be the reason for an alarming number of recent whale deaths.
On Thursday, January 12, a female humpback whale washed ashore in Brigantine, New Jersey. It was the seventh time in recent weeks a whale has washed up on beaches in the New York and New Jersey coastline.
Another humpback whale washes up, this one in Brigantine along the north end. A necropsy is scheduled for Sunday according to the Marine Mammal Stranding Center. Officials are asking people to stay away from the whale and not to touch it! @6abc pic.twitter.com/itcjFOr2kT

— Trish Hartman (@TrishHartman) January 13, 2023
The Marine Mammal Stranding Center (MMSC) and other nonprofit marine groups performed a necropsy on the animal on Sunday morning. MMSC posted an announcement on social media revealing the preliminary results showed the whale had blunt trauma injuries that appeared to have come from a boat. According to the scientists, the mammal had partially digested fish in its stomach and fecal matter in its intestines. They believe the whale was actively feeding before it suffered the injuries.
The whales have washed ashore near an area being surveyed for a wind energy project. The deaths include five humpback whales and two sperm whales. Several environmental groups and politicians have asked for the New Jersey governor to stall the project while the deaths are investigated.
NJ.com reported Governor Phil Murphy (D) is refusing and has said the wind projects would continue to move forward in the Garden State despite concerns the survey boats might be killing the whales. He went on to say the whale deaths have been "happening at an increased rate since 2016." The governor pointed out that was well before the wind project began.
The NOAA did declare an "unusual mortality event" for humpback whales along the Atlantic coast in 2016. The event is ongoing, and the latest deaths will be added to the investigation into what might be causing it.
Copyright 2023, ReliableNews.org