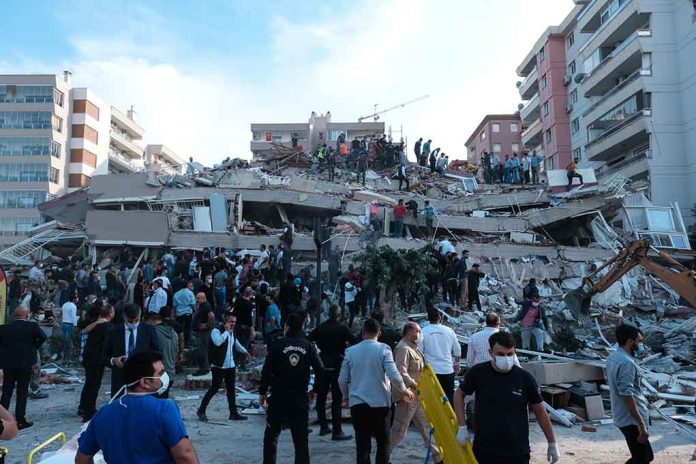 (ReliableNews.org) – On Monday, February 6, a massive 7.8-magnitude earthquake shook Turkey and Syria, leaving behind mass destruction. More than 6,000 structures toppled, leaving thousands buried under rubble. Adding insult to injury, the region was already experiencing harsh weather, which is hindering rescue efforts, and the death toll just keeps climbing.
The 7.8-magnitude earthquake was centered in Gaziantep and was followed just mere hours later by one measuring 7.5 in southeastern Turkey. They were so powerful, the tremors were felt as far as Greenland, and registered on seismometers around the globe. Videos showed the devastation left behind.
The level of destruction caused by the earthquake in Turkey makes it look like a war zone. This is utterly heartbreaking. Pray for Turkey and especially for the people trapped under the rubble. pic.twitter.com/PeqPXoNKlF

— KC (@kci2013) February 6, 2023
The Washington Post reported that the United States Geological Survey (USGS) attributed the larger quake to two faults that moved laterally against each other. It also indicated that the 7.5-magnitude event wasn't an aftershock, but a direct result of the first one.
At the time of writing, more than 5,800 people have died in Turkey and the death toll in Syria has surpassed 2,150. Authorities believe there are undoubtedly thousands more beneath the rubble as temperatures are hovering around freezing.
Dr. Gerald Rockenschaub, a World Health Organization regional emergency director, made it clear time is not on their side. According to The New York Times, he said, "the later people are found … the worse the chances for survival." There are currently close to 25,000 search and rescue personnel looking for those buried, and the European Union has sent more than 1,000 personnel and 70 rescue dogs to help.
On Tuesday, February 7, President Recep Tayyip Erdogan declared a state of emergency to last three months in at least 10 Turkey provinces. The nation also entered a seven-day period of mourning for all the lives lost.
This was the deadliest earthquake in Turkey since 1999, when a 7.4-magnitude event killed approximately 17,000 people.
Copyright 2023, ReliableNews.org