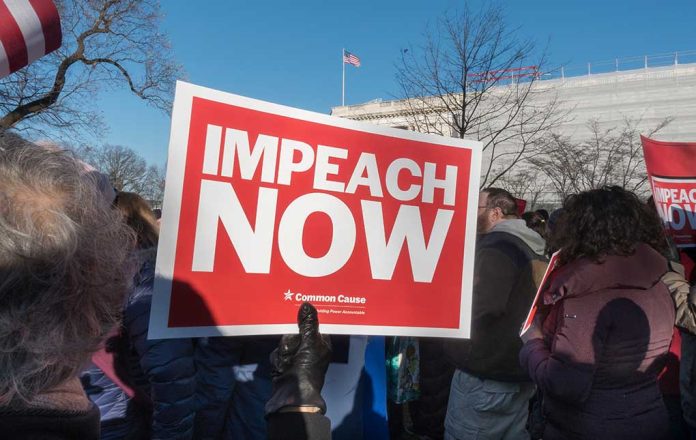 Articles of Impeachment Have Been Drafted Against Biden – What's Next?
(ReliableNews.org) – The House of Representatives has the power to prepare and submit articles of impeachment against government officials as the first step in removing them from office. Once approved, the measure travels to the Senate for conviction or dismissal of the charges outlined in the documents. On September 19, Representative Marjorie Taylor Greene (R-GA) introduced such articles in the Lower Chamber of Congress against President Joe Biden.
Details of the Impending Removal
The Georgia lawmaker said the reason she filed the papers was to remove the US leader from office for "selling oil from the United States Strategic Petroleum Reserve (SPR) to foreign nations." Greene claims Biden is draining America's emergency energy supply, leaving the country vulnerable should an event happen where the US needs to call on the stockpile. She believes the commander-in-chief is putting the country in danger and violating his "constitutional oath" to protect the nation.
In a video clip, the legislator said China is the number one buyer of America's oil reserves, pointing out the country is a US "enemy." On November 23, 2021, the president told the public he was releasing "50 million barrels" from the SPR in an effort to lower gas prices and address energy supply and demand issues. The move, he explained, was in conjunction with similar actions taken by other nations. Part of the oil was sold with approval from Congress, and the majority was used in an exchange action in a move to help stabilize the energy market.
In March, Biden announced the US and dozens of other countries would "release 60 million" more barrels of oil from their reserves with the US share being 30 million. Currently, the SPR sits at its lowest level since the mid-80s.
Other Articles
The introduction by Greene isn't the first time a Representative has filed articles of impeachment against Biden. The Georgia lawmaker made the same move shortly after the president took office in January 2021. In September of the same year, four Republican representatives drafted another measure in an attempt to remove the commander-in-chief. The group alleged Biden failed to secure the border and mismanaged the withdrawal from Afghanistan. Representative Bob Gibbs (R-OH) headed up the effort.
When President Donald Trump was in office, the House tried to impeach him four times for various alleged offenses ranging from disrespecting the flag to obstruction of Congress. The body succeeded twice in its efforts, although the Senate failed to convict him for any wrongdoing.
Do you think Greene will be able to successfully remove Biden from office?
Copyright 2022, ReliableNews.org