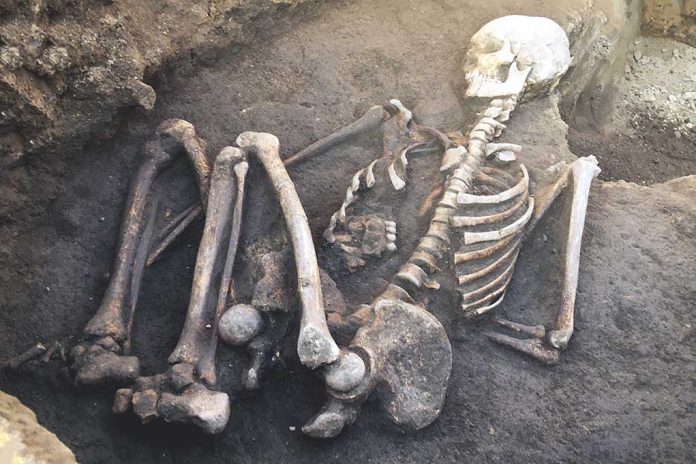 (ReliableNews.org) – In April, an unsuspecting farmer was doing some work in Nottinghamshire, England, when he made a shocking discovery. A human body was buried on the property. Police arrived and blocked off the area, which is located next to woods, and got to work on exhuming the skeleton. A month later, law enforcement is still investigating the discovery.
According to reports, authorities have still not identified the remains. They believe the victim was a man who ranged somewhere between the ages of 40 to 60 years old. They also determined the person was 5 feet 4 inches to 5 feet 6 inches tall. They found a pair of socks and a shoe at the burial site. Officials are waiting for the results of radiocarbon dating to discern when the victim died.
Assistant Chief Constable Rob Griffin appealed to the public for information. He said that he wanted them to "remember this is not just a collection of bones in a field." The person who died was "someone's loved one," and their family has likely been waiting for years for answers. He went on to explain that law enforcement believes the victim was murdered because of the injuries to the skeleton. They also think the killer chose that spot to bury the body to keep people from finding him, but have said it might not be where he died.
After the discovery, rumors persisted that there could be other bodies buried at the site, but law enforcement dismissed those claims. Superintendent Claire Rukas said there was a "single grave with a single deceased person" and told the public that they did not have anything to worry about.
Police conducted DNA testing on the remains and were able to determine the bones did not belong to Robin Barrows Spence, a 47-year-old man who went missing in 2004.
Copyright 2023, ReliableNews.org