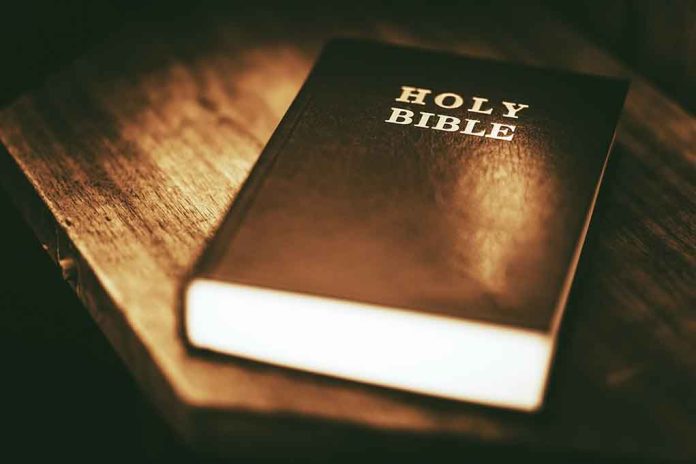 (ReliableNews.org) – Almost 100 years ago, in 1929, an old Bible resurfaced after being missing for almost 600 years. From then on, the incredibly rare book was held in a private collection. It will soon appear at an auction.
On February 15, Sotheby's announced the Codex Sassoon Hebrew Bible would go on sale on May 16. The holy book is the earliest, most complete version of the Bible.
Coming to auction this May is one of the most impressive artifacts of human history and culture: The Codex Sassoon Hebrew Bible.

Over 1,000 years old, the bible puts an end to the great "silent period," during which virtually no Hebrew literature survives. pic.twitter.com/DoKWEi2cXo

— Sotheby's (@Sothebys) February 15, 2023
According to The New York Times, the Codex contains all 24 books of the Hebrew Bible. However, it is missing about five leaves, including 10 chapters of Genesis. The book was written roughly 1,100 years ago in present-day Syria or Israel. It includes almost the entire text of the holy book on about 400 parchment sheets written in meticulous block lettering by a single person. After it was completed, it moved around a bit, but it eventually ended up in a synagogue in Syria, which was destroyed in the 13th or 14th century. That's when the Codex disappeared — until nearly a century ago.
The book weighs 26 pounds and measures 12 by 14 inches. There are two versions of the Ten Commandments in the book.
Two other Hebrew Bibles exist. The Leningrad Codex is complete and dates back to 1008. It is currently at the National Library of Russia. The other is the Aleppo Codex, which was created in 930. Sadly, almost two-fifths of the pages are missing in this Bible, which is held in the Israel Museum in Jerusalem.
Two years ago, a committee began discussing how much the book should sell for at auction. It is using the November 2021 sale of the first printing of the US Constitution for $43.2 million as a benchmark for the sale. The auction house believes the Bible might sell for $50 million. If that ends up proving true, it would take the record for the most expensive historical document ever sold.
Copyright 2023, ReliableNews.org