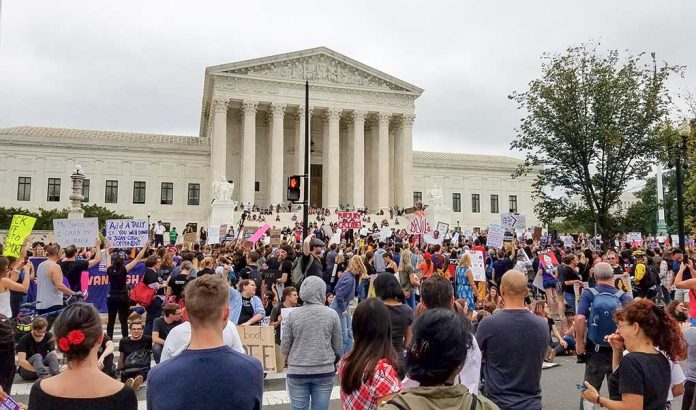 Biden Keeps a Tight Lip As Chaos Worsens Over Roe v Wade Leak
(ReliableNews.org) – In the days after the Supreme Court leak took place, a group called "Ruth Sent Us" published the home addresses online of the conservative justices and encouraged people to protest at their homes. Republicans expressed outrage over the protests. Now, the White House is under fire for not acting swiftly enough.
On Tuesday, May 10, Senator Tim Scott (R-SC) slammed President Joe Biden's administration during an interview on "The Guy Benson Show." The senator condemned the admin for being quiet about the protests. Scott said he never thought he'd see the day when the country was "talking about the physical safety of the Supreme Court" because they were set to judge on an issue. He went on to say while "angry, vicious aggressive crowds" try to intimidate the judges, the president has remained silent.
Biden has not said a word about the protests. On May 9, during the White House Daily Briefing, a reporter pointed out it's illegal to protest outside of private residences. Press Secretary Jen Psaki said the president isn't encouraging anyone to break the law.
Jen Psaki STILL won't condemn protests outside the homes of Supreme Court justices pic.twitter.com/vxEupJFtTB

— RNC Research (@RNCResearch) May 9, 2022
Although Psaki said nobody is suggesting anyone should break the law — she did, the very next day.
Jen Psaki just encouraged people to participate in illegal protests outside Supreme Court justices' homes.

"We certainly continue to encourage that outside of judges' homes."pic.twitter.com/78wsrXTAbv

— LifeNews.com (@LifeNewsHQ) May 10, 2022
Do you believe the Biden administration is supporting lawless behavior?
Copyright 2022, ReliableNews.org