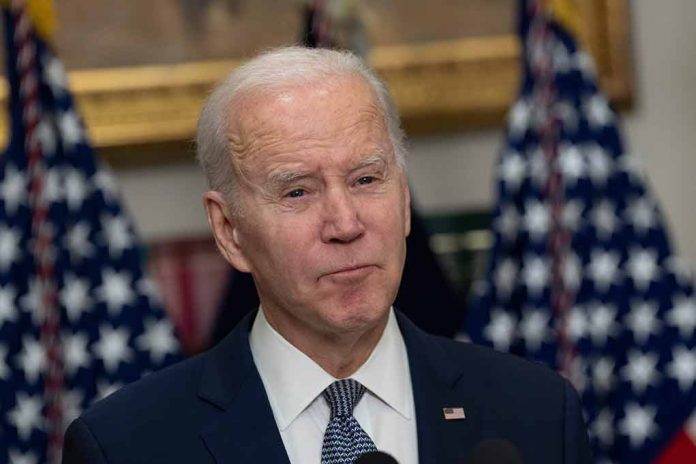 (ReliableNews.org) – House Republicans are reportedly getting closer to launching an impeachment inquiry into President Joe Biden. Conservatives have been probing whether the POTUS profited off his son's business dealings, or was influenced by them, while vice president. Biden had a controversial reaction when asked about his banking records.
At the beginning of August, Speaker of the House Kevin McCarthy (R-CA) told Fox News host Sean Hannity that the president needs to hand over his bank records. He explained that he thinks the First Family needs to prove to the American people that there wasn't a pay-to-play scheme happening.
On August 31, Biden was at the FEMA headquarters in Washington, DC, to discuss the impact of Hurricane Idalia. A reporter asked the president if he was going to hand over his banking records as requested. Instead of responding, he laughed at the question and said, "Let's talk about why I'm here."
Prior to dodging the question about his bank records, he'd answered questions about whether he'd spoken to Senate Minority Leader Mitch McConnell (R-KY) after his recent health scare, overdose awareness day, and the possibility of a government shutdown. After refusing to discuss the records, he answered a question about the G20 Summit in India.
According to reports, McCarthy is having trouble convincing moderate Republicans to agree to an impeachment inquiry. He can only afford to lose four GOP votes if he hopes to pass a resolution that authorizes a probe. Rep. Mike Lawler (R-NY) told CNN that he doesn't think there's enough evidence against the president to warrant an investigation.
Speaker McCarthy on Friday said he'd have a vote to formally open an impeachment inquiry on Biden.
But a number of swing-district Republicans aren't ready to support it.
"We're not there yet," Mike Lawler said.
He can only lose four GOP votes.
More from today's @insidepolitics pic.twitter.com/nHehXxFJB0

— Manu Raju (@mkraju) September 3, 2023
Rep. Don Bacon (R-NE) told The Hill that he also doesn't think there's enough evidence to open an impeachment inquiry. There's at least one other lawmaker not on board as well.
McCarthy hopes to keep the House majority in 2024, but in order to do that, he will need to hang on to several seats in districts won by Biden in the last election. The impeachment probe could hurt those chances.
Copyright 2023, ReliableNews.org