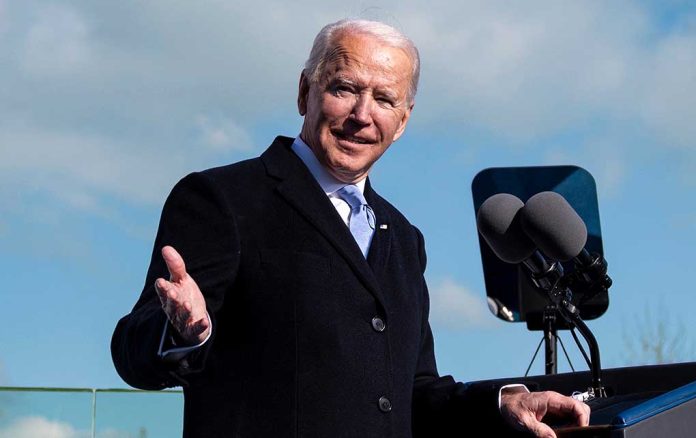 (ReliableNews.org) – President Joe Biden and Senate Minority Leader Mitch McConnell (R-KY) are not exactly best friends. When the POTUS served as vice president to former President Barack Obama, the GOP leader made it one of his primary goals to prevent the administration from getting anything done. At one point, he even blocked them from filling a Supreme Court seat. However, they have worked together on a number of pieces of legislation during Biden's presidency — recently, the two even celebrated together.
On Wednesday, January 4, Biden traveled to Covington, Kentucky, for a joint appearance with McConnell. The two were on the Kentucky side of the Brent Spence Bridge, which connects the state to Ohio. They were celebrating the success of the bipartisan infrastructure bill lawmakers passed last year. The law provides hundreds of millions of dollars for a Bridge Program that will allow states to improve the reliability, safety, and efficiency of the structures.
Reuters reported the president told those in attendance that while he and McConnell disagree about many things, he believes the Republican is a "man of his word." He also said the passage of the infrastructure legislation proves there can be bipartisan compromise on Capitol Hill.
McConnell told those in attendance that the country needs to see Republicans and Democrats come together. He called the infrastructure bill a "legislative miracle."
Not everyone was happy about the two men trying to unify. Conservative Todd Starnes called the joint appearance a "lovefest."
Millions of Republican voters stand in solidarity with the 20 conservatives who are trying to stop McCarthy. We are tired of business as usual. And by "business as usual," I would refer you to Kentucky where Mitch McConnell is having a lovefest with Joe Biden.

— toddstarnes (@toddstarnes) January 4, 2023
Bill O'Reilly claimed McConnell empowered the president to spend more money by attending the event with him.
.@ChrisCuomo and @BillOReilly discuss Kentucky Sen. Mitch McConnell and the $1 trillion infrastructure bill. O'Reilly says McConnell has got to go and isn't looking out for citizens. "He just empowered Joe Biden to spend more money."

Watch #CUOMO: https://t.co/s8z9kEhjMw pic.twitter.com/USxp3IAfrt

— NewsNation (@NewsNation) January 5, 2023
Fox contributor Leo Terrell called the Senate minority leader a Democrat.
Democrat Mitch McConnell is hosting Joe Biden today in Kentucky! Shame on you Kentucky! #RetireMitchMcConnell

— TheLeoTerrell (@TheLeoTerrell) January 2, 2023
McConnell has faced a lot of criticism from his party in recent months, but still, the Senate GOP re-elected him to lead their caucus.
What do you think about McConnell and Biden holding an event together?
Copyright 2023, ReliableNews.org