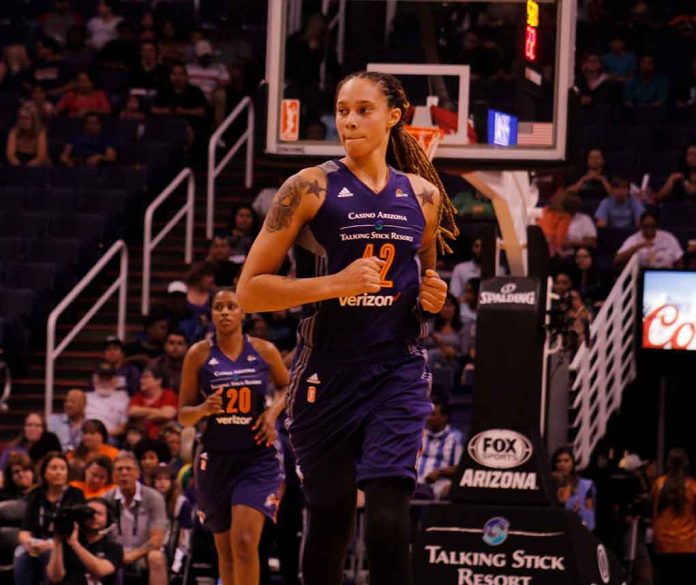 (ReliableNews.org) – In February, Russian authorities detained and arrested WNBA star and American Brittney Griner for drug possession. She was carrying vape cartridges that contained a type of cannabis oil through an airport in Moscow — against the country's laws. The athlete pleaded guilty to the charges in July, and the court sentenced her to nine years in a Russian prison.
In November, the basketball player was on her way to a penal colony which, according to reports, would have been a difficult place to carry out her time in captivity. In December, President Joe Biden struck a deal with the Russians and brought Griner home in a controversial trade. As she began the recovery from her ordeal, she hit the court for the first time in Texas.
Griner Today
On December 11, ESPN wrote a piece dedicated to the WNBA star. It described how Griner geared up from head to toe in basketball garb and dunked the ball on a court at Fort Sam Houston in San Antonio, Texas. The American has been a guest at the base since she arrived back in the United States and reportedly has no departure time frame in mind.
Griner hasn't spoken publicly since her release and is reluctant to confirm whether or not she plans to return to the Phoenix Mercury team or her WNBA career at all. Lindsay Kagawa Colas, Griner's agent, told the sports outlet that she has time to decide. The athlete and her wife are staying on base while she gets used to her freedom but will likely not head to Phoenix when she leaves. Some say Griner and her family will go into seclusion at an undisclosed location for a time.
On her way back to America, Griner was accompanied by Roger Carstens, a top hostage negotiator from the Biden Administration. He said she was very chatty on the way home, describing her as an "intelligent…interesting…and authentic" person.
The Exchange
The White House struck a deal with Russia. The US government would release international arms dealer Viktor Bout and send him to the motherland. In exchange, Moscow would release Griner into US custody and allow her to come back to American soil. But not everyone was happy the basketball star was coming home. Some think the deal was unbalanced, given Bout's crimes.
Others criticized the move, saying Biden should have tried to secure Paul Whelan's freedom instead. Whelan is a dishonorably discharged former Marine serving time in Russia for suspected espionage. His brother, David Whelan, was happy about Griner's release, speaking out after the event to congratulate her and her family. Biden reportedly tried to bring Whelan home as well, but the Russians were not interested in adding him to the list at this time.
As for Griner's future, both on and off the court, she seems to be taking her life one day at a time.
Copyright 2022, ReliableNews.org