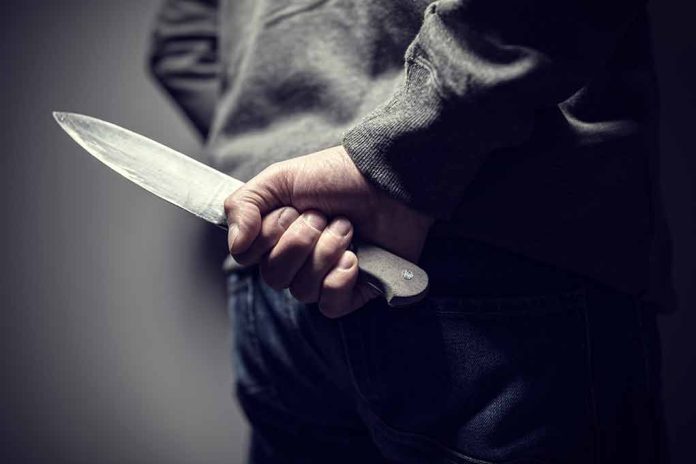 (ReliableNews.org) – Football fans are known for their passion. Just look at the supporters of the Buffalo Bills who throw each other through tables, sometimes when they're on fire. California police reported some NFL fans got into a brawl at a fast food joint.
On August 26, the Santa Clara Police Department informed the public about an incident that took place the night before. Law enforcement responded to a call at an In-N-Out Burger located near Levi's Stadium, where the San Francisco 49ers play.
When police arrived on the scene, they found at least 10 individuals in a fight. They detained many people and discovered two of them suffered multiple stab wounds. Some of the people involved in the brawl were wearing 49ers and Las Vegas Raiders clothing. The victims were taken to the local hospital for treatment. According to reports, video of the incident shows someone holding what appears to be a knife and stabbing one of the victims. As the man was on the floor, three people started beating him.
The fight took place after the Los Angeles Chargers faced off against the 49ers. The Chargers won 23-12.
The Santa Clara PD updated its social media post a couple of days after the incident and said the suspect who was accused of stabbing people was arrested. Local reporters identified him as Gage Anthony Bryand, 27. He is now facing resisting and obstructing a police officer and attempted murder.
The stabbings at the restaurant came two days before a 16-year-old girl, Naima Liggon, suffered a fatal stab wound after getting into an argument outside of a McDonald's in Washington, DC. Reports indicated she went to the fast food joint with a friend and ordered food. They got back into the car and got into a fight. Liggon was stabbed and later died at a local hospital. The teen who allegedly attacked her was arrested.
Copyright 2023, ReliableNews.org