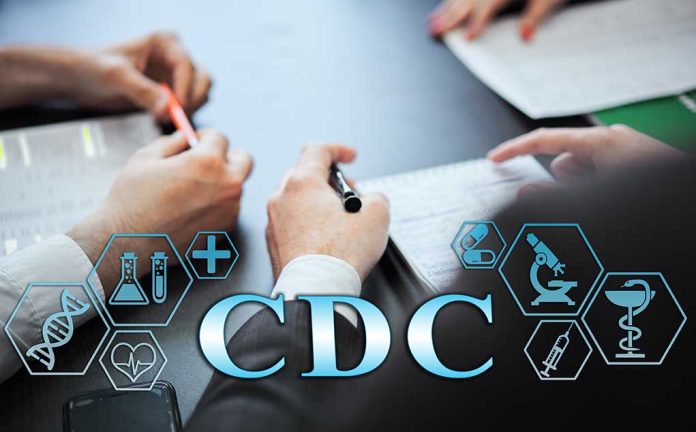 (ReliableNews.org) – On February 3, a freight train derailed in East Palestine, Ohio. According to a report released by the National Transportation Safety Board (NTSB), 38 railcars came off the main track, 11 of which were carrying hazardous materials that caught fire, and some burned for two days. To stave off possible explosions of five burning tank cars containing vinyl chloride, experts vented the railway containers to release and burn the chemical away. Many health investigators were on the scene to assess safety concerns for the people who live in the area and the impact on the wildlife following the crash.
On April 1, the BBC reported that the CDC confirmed seven US health investigators got sick while probing the area. Apparently, a team of CDC investigators went door-to-door collecting data after the derailment. While there, they began to experience headaches and nausea, which aligned with symptoms felt by many East Palenstine residents. The agency reported the group's ailments went away after a few hours, and everyone was back to work within a day. The entity said the team has "not reported ongoing health effects."
The CDC investigators formed part of a team that was conducting house-to-house interviews in the area of the derailment last month, according to authorities. They immediately reported their symptoms to federal authorities after they fell ill.https://t.co/Cv93VyDNC8

— Joshua T. Hosler (@JoshuaHosler) April 1, 2023
Although it seems the CDC crew quickly recovered, many animals in East Palestine weren't so lucky. According to the BBC, almost 45,000 animals died as a direct result of the train derailment and subsequent chemical release.
On March 30, the Department of Justice (DOJ) filed a lawsuit against the railway company for damaging the environment. The federal government is seeking to hold the defendants, Norfolk Southern Railway Company and Norfolk Southern Corporation, responsible for polluting the waterways in East Palestine to ensure they pay for the cleanup, recovery, and penalties. The CEO of the railway organization, Alan Shaw, previously apologized for the incident and vowed to "make this right."
Meanwhile, water testing and cleanup continue in Ohio, and many are still concerned about the safety of the area's drinking water.
Copyright 2023, ReliableNews.org