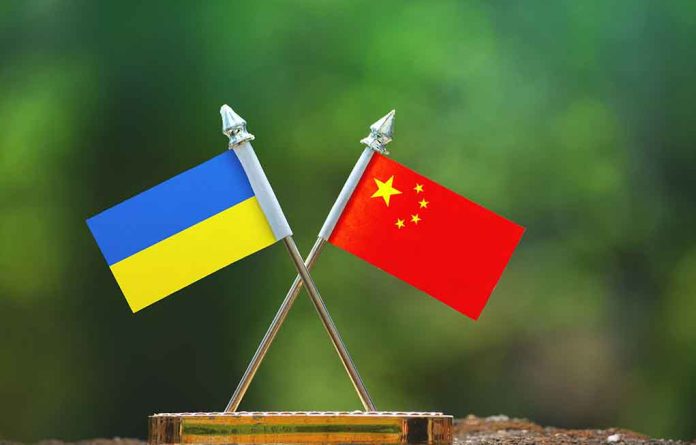 (ReliableNews.org) – The year anniversary of Russia's unprovoked war on Ukraine has come and gone, and there's still no end in sight for the conflict. The United States is concerned about the possibility of China sending lethal aid to Russia. Now, the Chinese government has made a surprising request.
Reuters reported that on Monday, February 27, Chinese Foreign Ministry spokesperson Mao Ning told the press at a briefing in Beijing that they are calling "for peace and [to] promote dialog and promote a political solution" to the war in Ukraine. She said China's position on the war has remained consistent, and officials have communicated with both sides throughout the conflict.
Mao's remarks came after a reporter asked about Ukrainian President Volodymyr Zelenskyy said he intends to meet Chinese President Xi Jinping at some point.
In a question on Zelenskyy saying he planned to speak to #China's Xi Jinping, Beijing said its position on #Ukraine is "consistent and very clear", argues it has "always maintained communication with the sides involved including Ukraine." #Russia https://t.co/3DTC6BTc9g

— Eunice Yoon (@onlyyoontv) February 27, 2023
In recent weeks, the United States and China have clashed about the Russian war. In the lead-up to the one-year anniversary, Beijing has suggested the US is to blame for the battle. America has been the largest supplier of military assistance to the Ukrainian military since the beginning of the conflict. Russia has long maintained it believes the US is fighting a proxy war.
China has repeatedly claimed it has remained neutral in the conflict. However, President Joe Biden's administration has indicated there is a concern Xi's regime might begin providing lethal support to Russia.
On February 26, Jake Sullivan, the White House national security adviser, appeared on CNN's "State of the Union," where he discussed that issue. Reuters reported the official said that if China decides to provide support to Russia, it will "come at real costs to China." His remarks came after Secretary of State Antony Blinken accused the Chinese government of funneling nonlethal assistance through its companies.
So far, there isn't any evidence to suggest Xi is providing lethal aid to Russia.
Copyright 2023, ReliableNews.org