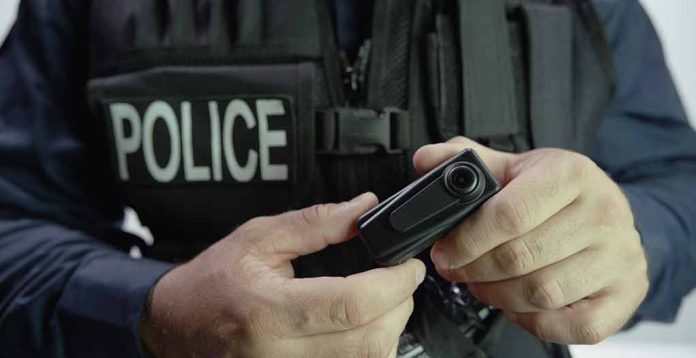 (ReliableNews.org) – On August 12, Detective Karli Travis responded to a noise complaint at 195 Liberty Street in Middletown, Connecticut. While walking up the road toward the house, she directed the man outside — presumably the source of the noise — to lower his hammer. The suspect, Winston Tate, yelled at the officer and refused to drop the tool, rushing towards her instead. The entire incident was captured on Travis' body camera.
The released footage revealed that Tate forcefully shoved Detective Travis to the ground. She fired her weapon at him in response, commanding him to "stop." Tate sustained gunshot wounds and relented with an "okay, okay," but the officer continued to shoot. Soon after, Travis attempted to get to her feet, dislodging her camera, revealing part of a struggle between her and the suspect. Once Tate backed away, Travis shot him again, and he finally retreated to his Liberty Street residence. The event only lasted about 30 seconds.
Additional officers arrived, apprehending Tate upon leaving his home. He received on-site medical care for gunshot wounds and was transported to Hartford Hospital for further treatment. The suspect spent two days recovering before being released into police custody. Authorities charged him with multiple counts of assault and interfering with an officer.
WFSB reported Middletown Police Chief Erik Costa praised Travis for her heroic response, stating he was "proud of her." She also sustained wounds during the interaction and received a few stitches, but is "resting comfortably at home."
This incident isn't the suspect's first brush with the law. Costa said Tate had been a convicted felon since the mid-'90s. In the last few years, he's spent time in prison for assaulting the police. Officers have reportedly responded to the man's home five times in the last 30 days alone. He is now being held on $800,000 bond and is due back in court in early October.
Copyright 2023, ReliableNews.org