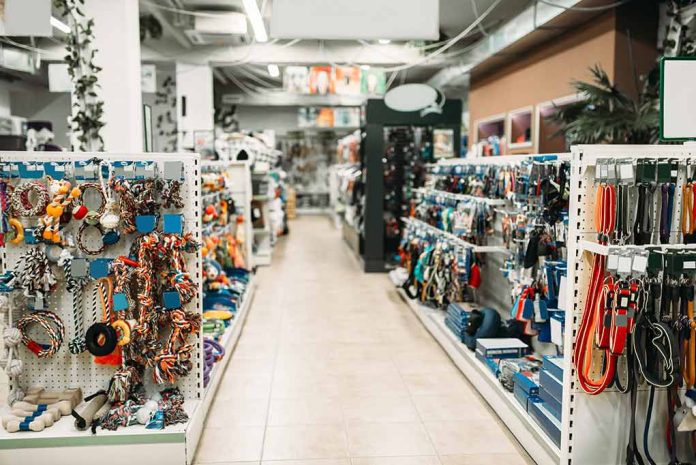 (ReliableNews.org) – Every day in the news, it's, unfortunately, commonplace to read about tragedies all over the world. Most of the time, these incidents involve accidents or humans hurting other humans, but not always. A recent story in Oklahoma sent shockwaves across the state, as one brutal couple against multiple helpless animals just waiting for a home took cruelty to another level.
What Happened?
On June 26, Law & Crime reported that a young man and woman walked into Petland in Oklahoma City under the guise of "looking around" on July 13. They reportedly approached the puppy enclosure and interacted with the puppies before unleashing a brazen display of animal cruelty against other pets in the store. Surveillance footage captured some of the disturbing scenes as the couple callously strangled a defenseless bunny, snapped the neck of a helpless parakeet, and mercilessly stomped a small hamster to death. A guinea pig is still missing from the store. The horrifying incident unfolded at midday, leaving employees and customers in shock.
Petland employees contacted local law enforcement, leading to an investigation and police reaching out to the public for help finding the perpetrators. After receiving some tips, authorities looked at the footage and identified the suspects, but they have not been arrested. They are reportedly a white couple, male and female, between the ages of 18 and 25. KOCO News 5 shared part of Oklahoma City Animal Welfare's (OKC) statement about the matter. The group said investigators will release the couple's identities and the charges against them once they are in custody.
The Aftermath
OKC Animal Welfare said the crime committed is a felony, and investigators are taking the incident very seriously. The organization said the way the animals were killed in this instance was "shocking and appalling." Crystal Slocum from OKC Animal Welfare told KOCO News 5, "Animals don't have a voice, so we have to be the voice."
According to 2020 Oklahoma Statute §21-1685, anyone found guilty of animal cruelty in the state of Oklahoma could face up to five years in prison and up to a $5,000 fine.
In the wake of the tragedy, Petland owner Carl Swanson said everyone at the store was "heartbroken." He said the incident must have happened quickly because there is always plenty of staff in the store. Swanson said one of the two suspects was on the lookout and distracting Petland workers while the other carried out the monstrous deeds. Police don't have a motive for the crime.
Copyright 2023, ReliableNews.org