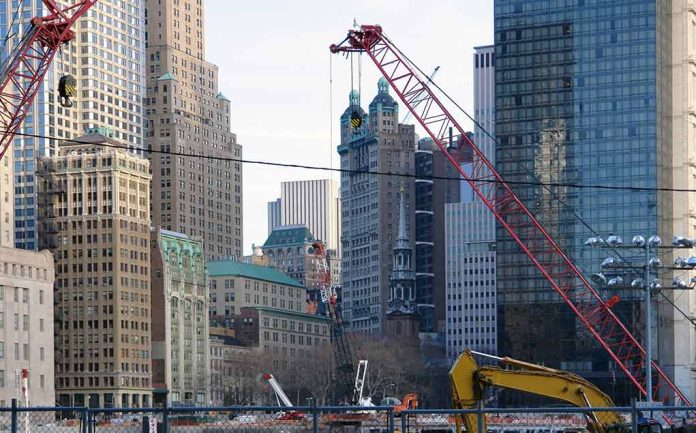 (ReliableNews.org) – It's not unusual to see a crane in New York City. The Big Apple is known for its extremely tall buildings, and the equipment is necessary for repairs and construction. However, it's unusual for one of them to collapse. That's what happened recently.
On July 26, as New Yorkers made their way to work and tourists were exploring the Hell's Kitchen area of the city, smoke billowed from a crane. Around 7:25 a.m., a fire broke out in the engine compartment of one that was about 45 stories up. FDNY firefighters responded to the scene to put the blaze out. As they were on the scene, the arm of the crane carrying 16 tons of concrete broke and slammed into a nearby building before plummeting to the ground.
Twelve people, including three firefighters, suffered non-life-threatening injuries in the accident. Videos posted on social media showed the moment the arm of the crane crashed to the ground. People on the street were seen running for their lives.
Just watched a crane fall and pummel a building on the other side of the block! #nyc #fire pic.twitter.com/YFyaurRglN

— Jimmy 💃🏻 (@jimmy_farring) July 26, 2023
Mayor Eric Adams reportedly pointed to the debris in the street at a briefing about the incident and stated that it could have been "much worse." Photos shared by the FDNY showed the damage.
FDNY units remain on scene of a crane collapse at 550 Tenth Avenue in Manhattan. Use caution in the area. pic.twitter.com/BLoAyPGdhF

— FDNY (@FDNY) July 26, 2023
According to the New York Daily News, 62-year-old Chris Van Duyne was operating the crane when it burst into flames. The accident on Wednesday wasn't the first he has been linked to in his years in the profession. Records show that his crane operator license was suspended, and he was accused of endangering public safety after a workplace death in 2008. The administrative charges came after Anthony Esposito, 48, fell 400 feet to his death, just a block away from where the recent accident happened. Van Duyne was also not listed on the paperwork.
Preliminary results for the crane collapse in Hell's Kitchen blamed a hydraulic fluid leak that landed on a heated metal plate and caused the fire.
Copyright 2023, ReliableNews.org