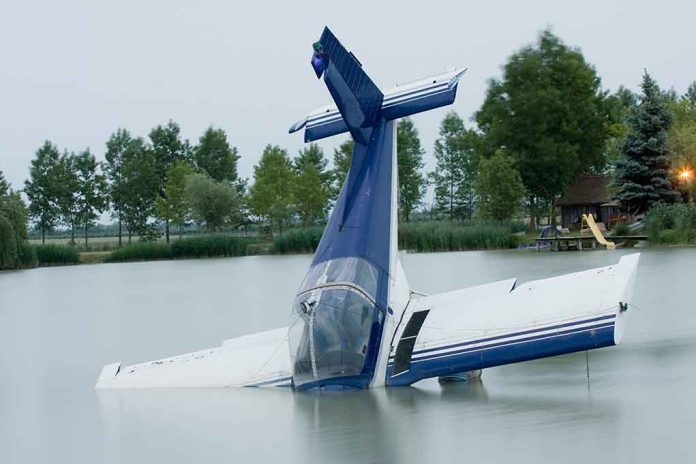 (ReliableNews.org) – On June 26, Daniel Dale Jones and his daughter, Denise Jones, were flying in a Cessna 177 airplane when the pilot — Mr. Jones — requested to land at Hot Springs Airport in Arkansas. The aircraft was reportedly experiencing a problem and needed to land — but it never made it that far.
The Garland County Sheriff's Office confirmed that the single-engine plane crashed into Lake Hamilton near Port-au-Prince Street. According to AP News, residents Dana and Laura Long saw the aircraft go down and hit the water. They ran to the lake to see if they could help, but they said the plane was already underwater when Ms. Jones emerged and started floating on the surface. Mr. Long said he believes Denise Jones knew she was severely injured.
The pair helped her to shore, but Daniel Jones — the passenger's father — didn't survive the crash. First responders had the 23-year-old victim transported to a local hospital for treatment, but she was then airlifted to the University of Arkansas for Medical Sciences for further care.
Garland County deputies ask public for video, audio of Lake Hamilton plane crash https://t.co/fjPXWJhqmV

— KARK 4 News (@KARK4News) June 27, 2023
Divers at the scene had to recover the pilot, who was described as "unresponsive" at the scene, but the sheriff's office confirmed later that he was deceased.
According to the Daily Mail, the father/daughter pair were coming from Kentucky, and it's unclear exactly what happened on the plane to warrant the distress call. The plane itself is reportedly registered to an LLC in Arizona. The National Transportation Safety Board is investigating the matter, and early reports indicate the pilot could have been having engine problems.
Denise Jones' current condition is unknown, so it's unclear if she will be able to help piece together the events that took place just before the crash. Local law enforcement asked that anyone with footage of the incident should contact the authorities to assist in the investigation.
Copyright 2023, ReliableNews.org