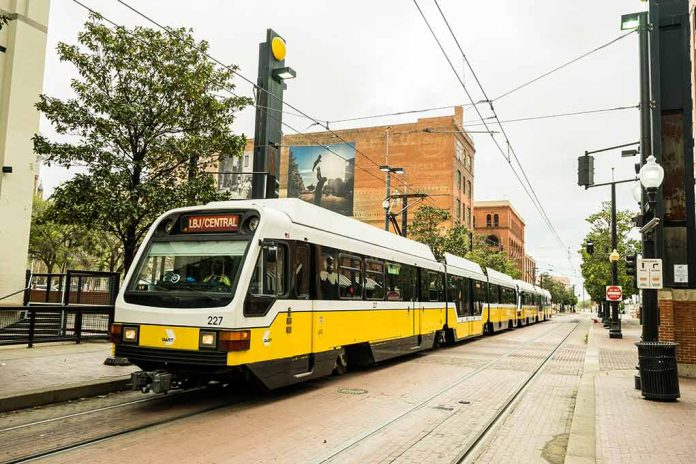 (ReliableNews.org) – Crime has increased across the country in many big cities. Those involving guns are especially problematic, with shootings taking place frequently. Dallas, Texas, was recently the scene of one such event.
On Sunday, May 7, two people on the northbound Green Line Dallas Area Rapid Transit (DART) train got into an argument. It was approaching Hatcher Station when a suspect began firing. Two people were shot, one of which was a bystander. The victims were rushed to the hospital, where the bystander was treated, but the other person died. A third person was injured by shrapnel and treated by emergency crews.
The suspect in the shooting, identified as 24-year-old Jordan Speed, was later captured. Police booked him on multiple charges, including aggravated assault with a deadly weapon and murder. He's being held on a $1.8-million bail.
Gordon Shattles, a DART spokesman, told The Dallas Morning News that the alleged suspect "was shooting wildly […] into the train."
The Dallas train attack came the day after a mass shooting at a mall in the Dallas suburb of Allen that left eight people dead and another seven wounded. https://t.co/8p0xwhNkdJ

— The Daily Beast (@thedailybeast) May 8, 2023
The shooting on the DART train came just one day after a mass shooting at a suburban Dallas shopping mall. According to reports, 33-year-old Mauricio Garcia exited his vehicle at the Allen Premium Outlets and opened fire. Eight people were massacred in the shooting, including three small children. Three members of a family of four were also among the dead.
Texas Department of Public Safety Regional Director Hank Sibley told reporters the gunman had a new-Nazi tattoo on him. He went on to say it appears Garcia "targeted the location" but doesn't appear to have sought out specific people.
Both shootings came about a week after a four-times deported immigrant shot five of his neighbors to death. Two of the victims were found on top of three babies, shielding them with their bodies. The children survived. The suspect was captured a few days later after a nationwide manhunt.
Copyright 2023, ReliableNews.org