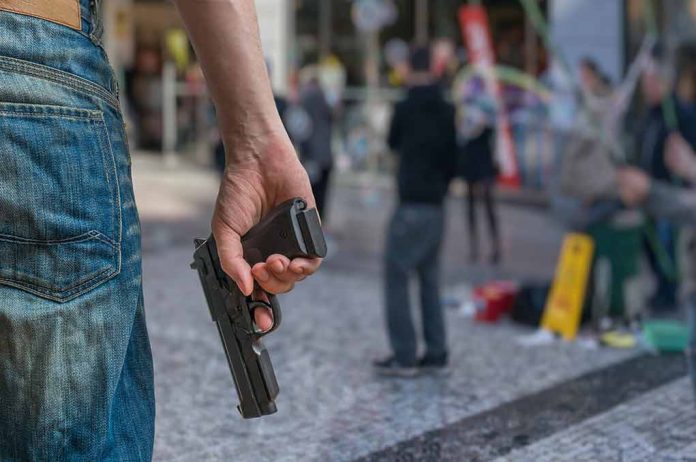 (ReliableNews.org) – On July 23, ABC News reported the US had experienced over 400 mass shootings so far in 2023, a 9% increase from last year. The escalating figure suggests a potential surpassing of 2022's 647 mass shootings — a concerning trend. The seemingly back-to-back instances have sparked a national debate on gun control with no end in sight.
Meanwhile, the mass shootings continue, as evidenced by yet another tragedy contributing to the growing list. This instance happened in California, and the suspect was someone who used to serve the public. On August 23, former Ventura Police Department Sergeant John Snowling reportedly shot and killed three people in a biker bar and injured six others.
What Happened?
According to The Orange County Register, Snowling entered Cook's Corner armed with multiple guns and a mission to shoot his wife, Marie Snowling. He immediately started firing upon entry. Mrs. Snowling had reportedly filed for divorce at the end of last year, and he wasn't taking the breakup well. His father-in-law, William Mosby, said Snowling was a "crazy husband" who retired from the police force in 2014 after a 28-year career.
Over 40 people were inside the establishment enjoying a spaghetti dinner and listening to music. Many people said they didn't realize what was happening when the shooting started. But it quickly became apparent, and chaos ensued. Mr. Snowling allegedly shot nine people total, killing three and sending six others to the hospital. The target, Snowling's wife, was shot in the lower jaw — at close range. Her current condition remains critical, but she has been conscious and talking.
Snowling Leaves
After the shooting, Mr. Snowling left the establishment to apparently retrieve another handgun and a shotgun when police arrived. The suspect reportedly fired upon the sheriff's deputies, who returned fire and killed him. The Times of San Diego reported that Orange County District Attorney Todd Spitzer revealed the police fired 75 rounds at Snowling. No officers were injured during the exchange. Investigators reportedly retrieved two pistols, a revolver, and a shotgun at the scene.
One of the other victims, a man who took a bullet to the chest, was stable on August 24 but still critical. One other shooting victim was released on the 23rd, and two more were expected to go home the next day. The fourth victim was awaiting surgery on his arm.
Chief Darin Schindler commended Orange County deputies for their response and conveyed his condolences to the victims' families. He said the tragedy "deeply affects us all."
Copyright 2023, ReliableNews.org