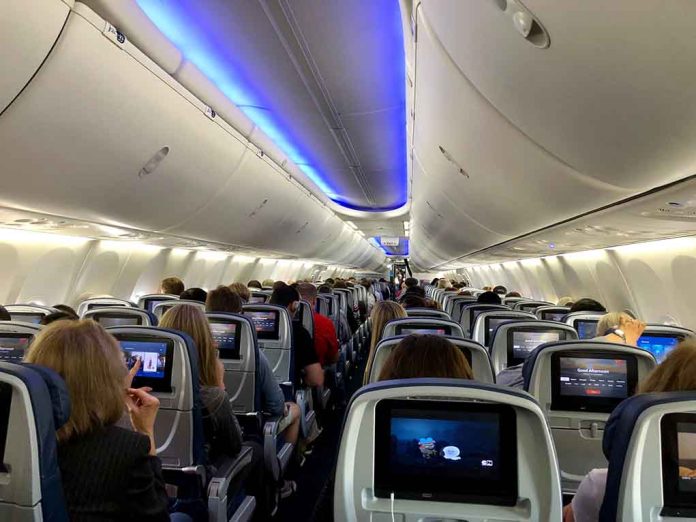 (ReliableNews.org) – Each year, doctors diagnose more people with skin cancer than they do all other cancers combined. At least one in five people will get the disease before they are 70 years old. On average, more than two people die from skin cancer every hour. A doctor is now telling people who travel to put sunscreen on before they board their next flight.
On April 10, Dr. Joyce Park, a board-certified dermatologist, uploaded a video to TikTok warning people about the dangers of air travel and skin cancer. She quoted a peer-reviewed study published in JAMA Dermatology in 2015 that found crew members and pilots were diagnosed with melanoma, the deadliest form of skin cancer, at approximately twice the rate as others. According to Newsweek, she went on to explain that the windows protect people from UVB rays but not UVA rays.
The video was seen more than a million times, but it isn't the first time doctors have warned about this. In 2019, another study reached the same conclusions.
Dr. Park told her followers they can reduce their risk by wearing sunscreen and closing the window screen. Experts recommend a broad-spectrum sunscreen with an SPF of 30 or more. It should be reapplied every two hours and at least 15 minutes before going into the sun.
In 2022, Best Life Online reported Dr. Enrizza Factor, who did her residency at Skin and Cancer Foundation Inc, said everyone should wear sunscreen while flying because the sun is more dangerous there. She noted that UVA rays can get in through the glass and damage the skin.
Dr. Jaimie DeRosa, a surgeon, agreed with Park. The doctor told Newsweek that she's also a pilot and she's always careful about skincare. She explained that when people are flying, the atmosphere is thinner and making the UV rays "more powerful and damaging."
Copyright 2023, ReliableNews.org