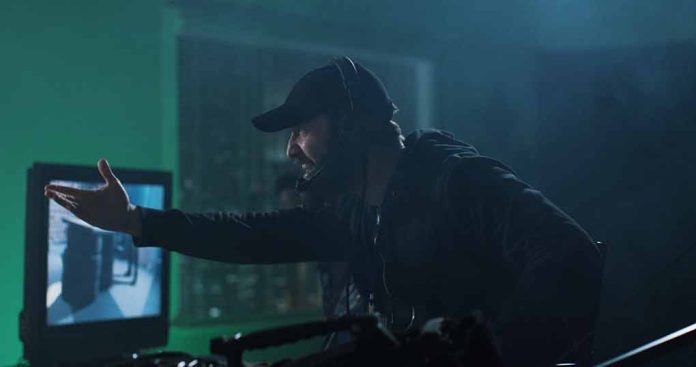 (ReliableNews.org) – One of the downsides to being a star is that crazed fans might take things too far. In 1989, 21-year-old Rebecca Schaeffer's family learned that the hard way when she was murdered by someone obsessed with her. It goes without saying that stalkers are taken very seriously in the business these days. That was on display recently.
On August 21, actress Drew Barrymore interviewed singer and actor Reneé Rapp in New York City. In a video of the event, which had an audience, a person shouted the "50 First Date" star's name. Barrymore and Rapp seemed startled by the interruption. The man reportedly screamed that he wanted to speak to her after the event.
At the bottom of the stage, a man is seen walking toward the actress, when Rapp suddenly jumps up and escorts Barrymore off the stage. Security guards are then pictured escorting the man away.
A Drew Barrymore stalker was escorted out of her 92NY event with Reneé Rapp after rushing the stage. pic.twitter.com/8FKqaWzgU8

— Pop Crave (@PopCrave) August 22, 2023
After the two women returned to the stage, Barrymore called Rapp her Kevin Costner, saying she went "full 'Bodyguard.'"
Days after the event, on August 23, the man who rushed the stage was allegedly arrested outside Barrymore's Long Island home. The New York Post reported a man named Chad Michael Busto went door-to-door in the actress' neighborhood, knocking on doors, trying to find her.
When he finally ended up at her home, he was detained. The Post reported that he has a long criminal record, with arrests all over the United States. Some of the charges included indecent exposure, criminal trespass, and harassment.
The Daily Beast claimed someone by the same name was banned from an online forum dedicated to Amber Heard. His ban was allegedly the result of "sexual harassment," "stalking," and "threats." In one video reviewed by the website, he addressed Heard directly, telling her he loved her "very much."
It's unclear what happened to the alleged stalker after he was detained at Barrymore's home.
Copyright 2023, ReliableNews.org