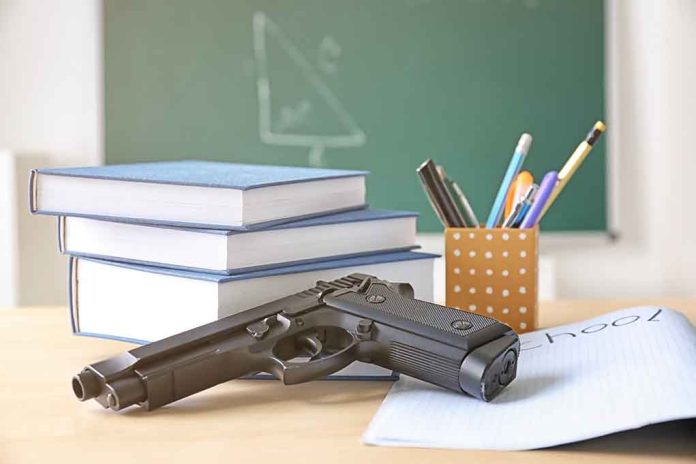 (ReliableNews.org) – A UK-based human rights group claims the Egyptian army has taken over dozens of schools in the Sinai region and turned them into military bases. According to the activists, the move is damaging children's education and causing illiteracy. The Egyptian government says the reality is it's built new schools in the region.
Egyptian army has turned Sinai schools into military bases, says rights group https://t.co/bUeLuzMIsJ

— عمو حسام (@3arabawy) March 30, 2023
Since 2011, Egypt's Sinai region, a 23,000-square-mile peninsula sandwiched between the rest of Egypt to the west and Israel to the east, has been the site of a vicious Islamist insurgency backed by Islamic State. Egyptian security forces have been fighting the rebels and trying to block weapon smuggling between Sinai and the Gaza Strip. The insurgents regularly kidnap and murder police officers, and launch car bombs and rocket attacks, which have killed many civilians.
The Sinai Foundation for Human Rights (SFHR) was founded in 2020 by UK resident Ahmed Salem. It claims to have a network of sources inside Sinai, including "local activists, researchers, and journalists," and says its aim is to monitor the actions of both sides in the ongoing conflict. In practice, it mainly criticizes the Egyptian government and security forces.
On March 30, The Guardian, a strongly liberal British newspaper, revealed a new report by the SFHR which claims the Egyptian army has taken over 37 schools in Sinai and turned them into bases. Salem claims the army uses schools because they're usually higher than the area's normal one-story houses and "gives the military a place to position snipers." The report contains satellite photos that, according to SFHR, show military vehicles and communications equipment inside schools.
Egypt says it's actually funded the building of new schools in Sinai in the last few years; SFHR doesn't deny that, but claims 96 schools in the region can't be used, and many children who are officially enrolled in them aren't actually being educated. The only thing we can be sure of is that the ISIS insurgency is inflicting huge misery on Sinai's residents.
Copyright 2023, ReliableNews.org