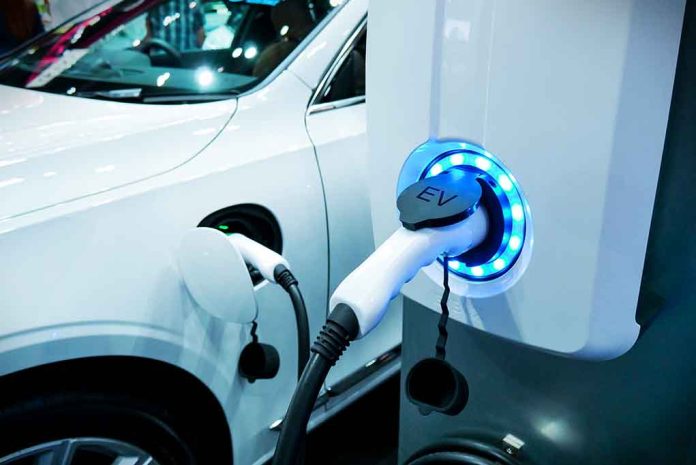 (ReliableNews.org) – Like much of the world, the United Kingdom is dealing with a rise in inflation. The cost of living has increased by double digits, and families are feeling the pain. That's having an impact on the electric car market in a rather unsurprising way, a new report indicated.
Auto Trader released its annual Road to 2030 assessment of the electric car industry in the UK. According to the report, the Society of Motor Manufacturers and Traders (SMMT) found there was an 18.8% increase in the number of electric vehicles sold in the commonwealth during the first quarter of 2023. However, the demand is not coming from average families who are trading in their gas-powered vehicles.
The increase is actually attributed to companies purchasing fleets at bargain prices. That's because the government is providing incentives for these fleet operators to make the big switch. While sales are thriving in that sector, private sales are falling. The number of inquiries about electric cars was down 65% year-on-year. They only account for 9% of inquiries, compared to 27% last year.
What do we need to do to ensure we see growth in EV adoption through 2023 and beyond? Find out in the latest edition of The Road to 2030 report 👉https://t.co/d5pwSO3JXX pic.twitter.com/R1L2He0vnp

— Auto Trader Insight (@ATInsight) January 4, 2023
Auto Trader theorized that an increased cost of living, coupled with the high prices of EVs, is likely having an impact. Sky News reported Elon Musk signaled price cuts are coming for Tesla as well. The billionaire did not expand on exactly what the price drops would look like.
The average cost of an EV in the UK is around £50,000 ($62,326 USD). Meanwhile, the average salary for all workers was £31,772 ($39,593 USD). The Road to 2030 report warned the government was going to have to start offering incentives to average buyers if they are serious about moving away from gas-powered vehicles. Retail buyers make up about half of all new car sales. So, unless there is a dramatic increase in those sales, the green initiatives in the UK are in trouble.
Copyright 2023, ReliableNews.org