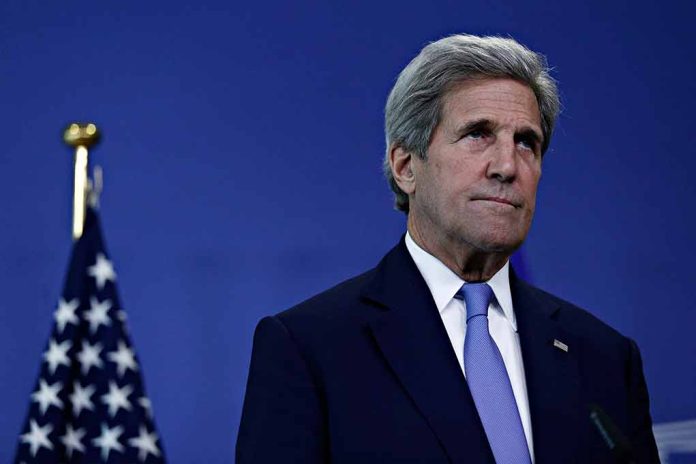 (ReliableNews.org) – In January 2021, President Joe Biden issued an executive order that required government agencies to track their emissions. Republican senators asked the Government Accountability Office (GAO) to provide information about the amount of greenhouse gas emissions produced by the US delegation to travel to the United Nations climate summits. The report revealed some startling facts.
In a June 8 report issued to Republican Senators Joni Ernst (IA), Tom Cotton (AR), and Shelley Capito (WV) the GOA revealed the government had not tracked its emissions for the 26th and 27th UN Climate Change Conference of the Parties (COP) in 2021 and 2022. According to the report, 191 executive branch employees and officials traveled to the 2021 conference and 259 traveled to the next conference.
The State Department told the GOA that there was no way to attend the COP26 and COP27 events virtually because the negotiations are spread throughout the days and nights. Further, they feel like the "interactions would be almost impossible to replicate in a virtual setting." The report quoted facts found by a United Kingdom investigation that said 72% of the greenhouse emissions produced as a result of the events were from aviation travel.
Biden's State Department admitted it hadn't developed a tool yet to track the amount of greenhouse gas emissions from America's delegation to the climate events. However, the department claimed they are in the process of trying to develop tools to use in the future to "quantity and develop methods to reduce the department's greenhouse gas emissions from its operations."
The State Department also told the GOA that its "in-person diplomacy is a critical element" of achieving the administration's goals and admitted a large amount of its greenhouse emissions come from that travel.
Republicans on the Committee on Environment & Public Works claimed the administration isn't practicing what it preaches and intends to "expose this hypocrisy and hold the Biden admin accountable."
Americans are tired of D.C. bureaucrats who don't practice what they preach when it comes to protecting the environment.@SenCapito, @SenJoniErnst, and @SenTomCotton are leading the effort to expose this hypocrisy and hold the Biden admin accountable.https://t.co/nED4gUqcSR

— EPW Republicans (@EPWGOP) June 30, 2023
Ernst reportedly accused the Biden administration of "giving lip service to greenies" while his officials are "blatantly emitting the greenhouse gases they demonize."
Copyright 2023, ReliableNews.org