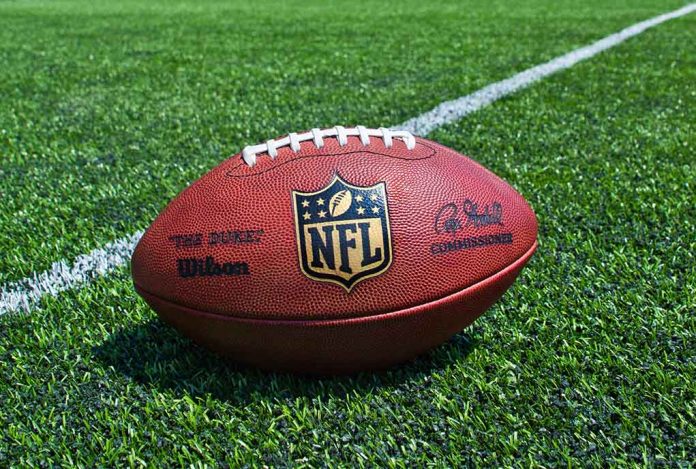 (ReliableNews.org) – The San Francisco 49ers drafted fullback Bruce Miller in the seventh round of the draft in 2011. He went on to play with the team for several seasons before they released him in 2016. After four years out of the league, the Jacksonville Jaguars signed him for a season. Though he hasn't played professional football for a couple of years, he's back in the news for allegedly threatening a member of Congress.
On May 17, Rep. Eric Swalwell (D-CA) posted a screenshot of a private message allegedly sent to him from Miller. It said, "Almost time!!!" and asked the congressman if he'd rather be executed or sent to Guantanamo Bay. The message concluded with, "[expletive] traitor." Swalwell asked his followers if they knew why the person was threatening to execute him and why he had more than 50,000 followers.
Swalwell reported Miller to the Capitol Police, the law enforcement agency tasked with protecting members of Congress. He spoke to Raj Mathai, a reporter for NBC, and said he was "deeply disturbed by the threat of execution." He went on to condemn all political violence.
A day after he posted the tweet, Swalwell said the 49ers reached out to him. He said he appreciated the team sharing its concern.
Miller issued a statement on Twitter, responding to the incident. He said that he asked Swalwell a "simple question which struck a nerve." He claimed he isn't a Republican, Democrat, or supporter of former President Donald Trump; instead, he said he's "an American who is sick of watching the corrupt establishment destroy our country."
https://twitter.com/BruceMillerIII/status/1659232378936541184
The ex-NFL player said he was merely "trolling" someone he believes is corrupt. Miller claimed he isn't a threat to the congressman or to his family. Then accused him of committing fraud instead of helping the American people. He didn't expand on what fraud he believes Swalwell committed.
Copyright 2023, ReliableNews.org