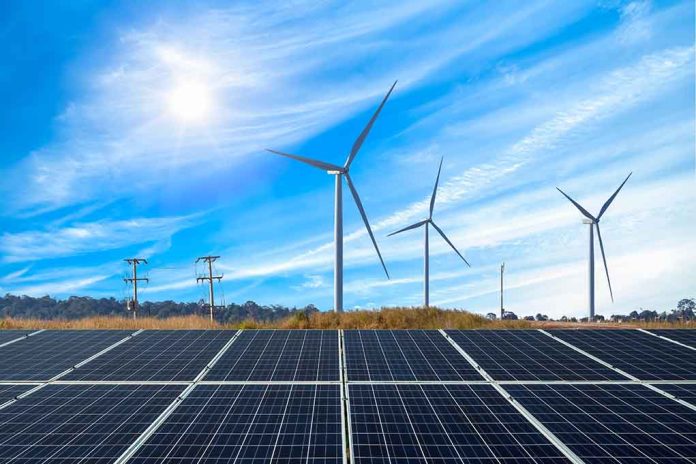 Biden's "Incredible Transition" Will Bring America To The Point Of No Return
(ReliableNews.org) – President Joe Biden began aggressively pursuing green energy policies when he took office. He suspended new oil and gas leases on federal land (which he has now reversed), canceled the Keystone XL pipeline extension, and announced the government would transition its fleet to zero-emissions vehicles. Recently, the Democratic-controlled Federal Energy Regulatory Commission (FERC) mandated an analysis of greenhouse gas emissions impacts for new natural gas pipelines. Experts are now warning a rapid shift to green energy could hurt Americans.
FERC Commissioner Mark Christie, one of two Republicans on the committee, told Fox News Digital he thinks the new pipeline ruling is a "huge barrier" to energy production. He believes it will create more roadblocks for companies and reduce supplies leading to increased prices and an unreliable grid. Worse, he warned, states are shutting down traditional energy production plants that still work as they transition to green sources, but it's leading to shortfalls.
Former FERC Chairman Neil Chatterjee warned of the same issue, saying the rapid transition to green energy could cause power shortages. He told the media site that in the country's "zeal to decarbonize, [it's] lost that critical focus" of reliability.
"I think that we have prioritized decarbonization over reliability and, sadly, it is going to take catastrophic events to recalibrate things and recenter our focus on reliability." Neil Chatterjee#CostOfNetZero

Read more: https://t.co/labmJXrV8j pic.twitter.com/1ZmJFtEfMm

— Net Zero Watch (@NetZeroWatch) June 24, 2022
The country is already seeing the consequences of a rapid shift. The North American Electric Reliability Corporation (NERC) warned of the threat of widespread blackouts and brownouts in the hottest months as a result of low production. The price of US natural gas has doubled this year, trading for $6.85-6.88 per million British thermal units (MMBtu) compared to the average price from 2010-2021 of $3.26 per MMBtu. The experts believe those problems could get worse.
Have you personally experienced the impact of Biden's or your state's energy policies?
Copyright 2022, ReliableNews.org