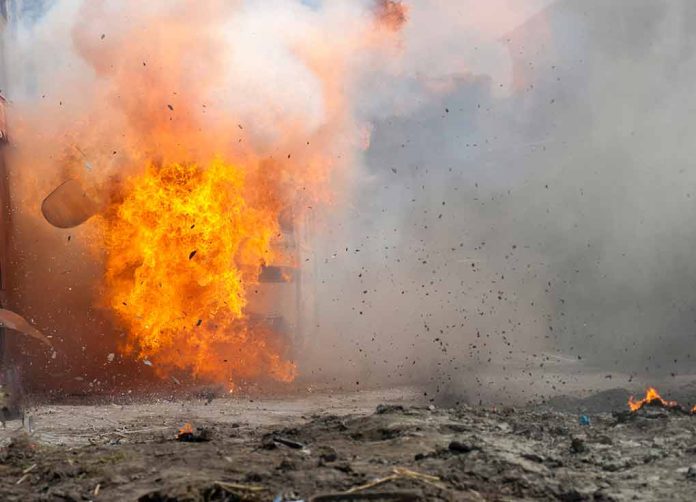 (ReliableNews.org) – In November 2022, a truck full of explosives drove onto the Kerch Strait bridge and exploded, setting it ablaze and damaging the structure. The destruction, reportedly carried out by Ukrainian forces, was a boon for the country's President Volodymyr Zelenskyy and an embarrassing blow to Russian President Vladimir Putin. The bridge is the only connection between illegally annexed Crimea and Russia. Recently, there was a second attack on the Kerch Strait bridge — another blow to Moscow — which preceded a set of explosions in Crimea, causing mass evacuations from the territory.
What Happened?
On July 19, Newsweek reported that the installed head of Crimea, Sergei Aksyonov, revealed on Telegram that a large fire forced officials to close the Tavrida highway. The roadway reportedly connects the Crimean Bridge to Sevastopol — a strategically-placed port and a naval base for Russia's Black Sea Fleet. Over 2,000 people from multiple settlements in Crimea had to flee their homes.
Aksyonov didn't say what caused the fire, however, a Telegram news channel gave more details about the incident's origin. According to Mash, the fire started in an ammunition depot, causing explosions that went on for multiple hours. However, a Ukrainian news station, RBC Ukraine, reportedly said the depot was "hit," indicating the fire didn't spontaneously erupt. Local news outlets reported that multiple people were hurt at the military training ground, but Aksyonov said there were no reported injuries. Newsweek stated it was unable to confirm any of the reports coming out of the region regarding the issue.
What Else Happened?
On July 17, there was an attack on the Kerch Strait Bridge, causing part of it to collapse. Sadly, a couple lost their lives, and their daughter sustained some injuries. Russia quickly blamed Ukraine for the incident, but the sovereign nation didn't immediately take responsibility. However, Newsweek reported that media outlets in Ukraine claim they have a source saying the attack was part of a special operation carried out by the country's Security Service and naval forces. In fact, Ukraine's minister for digital transformation, Mykhailo Fedorov, apparently announced on Telegram that the bridge was hit by "naval drones." He said, "It is better to act."
Meanwhile, so many people have tried to leave Crimea that there was a traffic jam spanning over 5.5 miles. Given the problems at the Kerch Bridge, Russian authorities encouraged travelers to drive through Russian-controlled areas of Ukraine. It's unclear whether or not people followed his suggestion.
Copyright 2023, ReliableNews.org