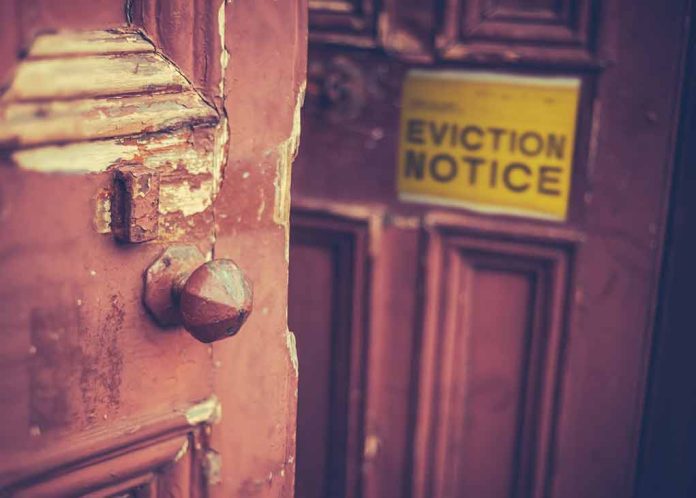 (ReliableNews.org) – In 2015, police arrested Ninti El-Bey for squatting in an $800,000 home in the posh neighborhood of Piper Glen in Charlotte, North Carolina. According to WBTV, prosecutors charged the woman with breaking and entering, trespassing, driving without a license, and having fake tags. She defended herself in court and was found guilty. The judge sentenced her to one year of supervised probation and two days of community service. Apparently, she didn't learn her lesson.
On July 17, WSOC-TV in Charlotte reported that El-Bey was arrested for squatting in a different home. When police arrived to forcibly evict the woman, she came out swinging. Reports say that El-Bey barricaded herself inside the house and punched an officer in the eye when he tried to remove her. Authorities arrested her for trespassing, resisting a public officer, and assaulting a government official.
People around the neighborhood said she's been causing all kinds of problems in the area. One woman, Katy Ascencio Flores, said El-Bey threatened her life, while Mike Kowalski said she made a habit of walking around the neighborhood with a "blow horn yelling at people." She claimed they were on her "indigenous property." Fox News reported that El-Bey had been a menace in the neighborhood for weeks.
El-Bey reportedly claims to be a Moorish sovereign citizen. In fact, while defending herself in court after her first arrest, she said her status with the Moorish nation meant that NC state laws didn't apply to her. According to law enforcement, the group's members are often involved in squatting incidents.
It's unclear what kind of punishment El-Bey faces for her alleged crimes, but punching a police officer in North Carolina is a felony. According to Knox Law Center, the charge could land her behind bars for between 33 and 41 months if she is found guilty.
Copyright 2023, ReliableNews.org