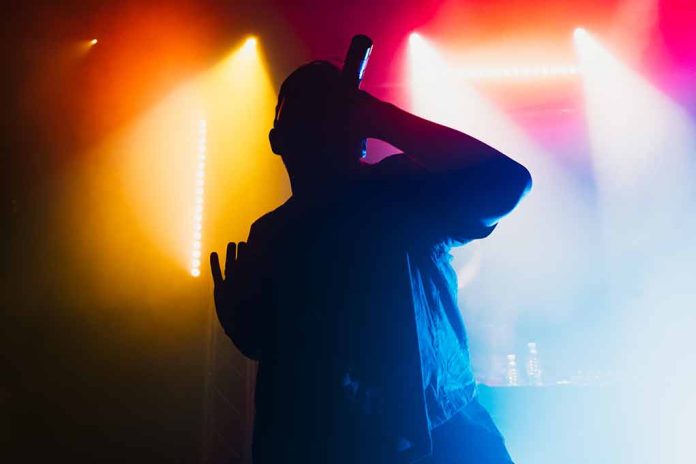 (ReliableNews.org) – Performing a concert shouldn't be a dangerous job. Recently, a number of artists have suffered injuries as a result of fans throwing objects on stage. Harry Styles is the latest victim.
On July 8, the celebrity site Pop Crave shared a video of the One Direction alum performing in Vienna. He's seen walking across the stage when he's suddenly hit in the face with an item that someone threw. The singer winces, then holds his face in his hand and walks offstage.
Harry Styles gets hit in the eye by an object thrown at him during his concert in Vienna. pic.twitter.com/mD9kzFoQvG

— Pop Crave (@PopCrave) July 9, 2023
In June, a fan threw a bouquet of flowers at the stage and struck Styles while he was performing in Cardiff, Wales. He was also hit in the eye by Skittles last year and managed to dodge other items that were thrown at him during other concerts.
Bebe Rexha wore protective goggles over her eyes on June 30 for a concert. The new accessory might have been a response to an incident that happened earlier that month during a show in New York City. A concertgoer threw a phone at her face and hit her in the eye. The attack reportedly left her needing stitches.
The New York District Attorney's Office has charged Nicolas Malvagna with two counts of third-degree assault, third-degree attempted assault, second-degree aggravated harassment, and second-degree harassment. According to PEOPLE, the complaint against him stated that he thought "it would be funny" if he could hit her with the phone.
A few days after the attack on Bebe Rexha, singer Ava Max revealed a man attacked her and scratched the inside of her eye.
He slapped me so hard that he scratched the inside of my eye. He's never coming to a show again 😡😡thank you to the fans for being spectacular tonight in LA though!!❤️

— AVA MAX (@AvaMax) June 21, 2023
Singer Charlie Puth addressed the recent string of on-stage attacks, calling it "disrespectful and very dangerous." He told his fans that throwing items at artists while they are on stage must end.
This trend of throwing things at performers while they are on stage must come to an end. (Bebe, Ava, AND NOW Kelsea Ballerini…) It's so disrespectful and very dangerous. Please just enjoy the music I beg of you…

— Charlie Puth (@charlieputh) June 29, 2023
Styles' representatives have not responded to questions about the most recent incident.
Copyright 2023, ReliableNews.org