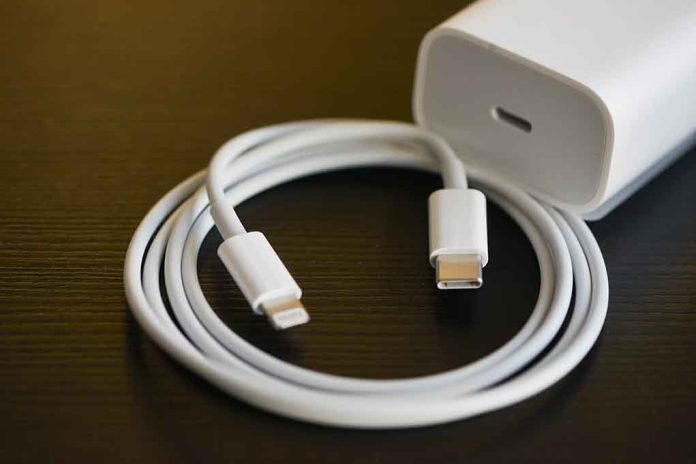 (ReliableNews.org) – Cybercriminals are constantly finding new ways to scam people. Data breaches have become all too common in the digital age. The FBI is now warning about another way criminals are stealing from people.
On April 6, the federal agency posted a message on Twitter warning people not to use free charging stations at public places like shopping centers, airports, and hotels to charge their electronic devices. According to the alert, cybercriminals "have figured out ways to use public USB ports to introduce malware and monitoring software onto devices." To avoid being compromised, the FBI recommends people use their own USB cords and adapter. Instead of plugging into a USB port, they should use an electrical outlet to charge their devices.
Avoid using free charging stations in airports, hotels or shopping centers. Bad actors have figured out ways to use public USB ports to introduce malware and monitoring software onto devices. Carry your own charger and USB cord and use an electrical outlet instead. pic.twitter.com/9T62SYen9T

— FBI Denver (@FBIDenver) April 6, 2023
According to the Cybersecurity & Infrastructure Security Agency (CISA), one in three households has computers that are infected with malware. About 47% of American adults have had their personal information stolen by cybercriminals. Ninety-five percent (95%) of security breaches are the result of human error, and there's been a 300% increase in cybercrime in the last three years.
The FBI also has a bulletin on its website that gives people tips on how to prevent their data from being stolen, malware from being introduced into the electronics, and becoming a victim of a crime. It's important to be careful when using public Wi-Fi networks, especially when conducting sensitive transactions. Additionally, everyone should
use strong passwords that are all different for each account;
avoid opening any attachments in messages unless they know who is sending them;
ensure all systems are up to date, including phone and computer updates;
don't click on unsolicited emails or texts that contain links;
use credit cards for online purchases; and
beware of any message urging someone to act urgently.
Victims of cybercrime should report it to ic3.gov or www.ftc.gov/complaint.
Copyright 2023, ReliableNews.org