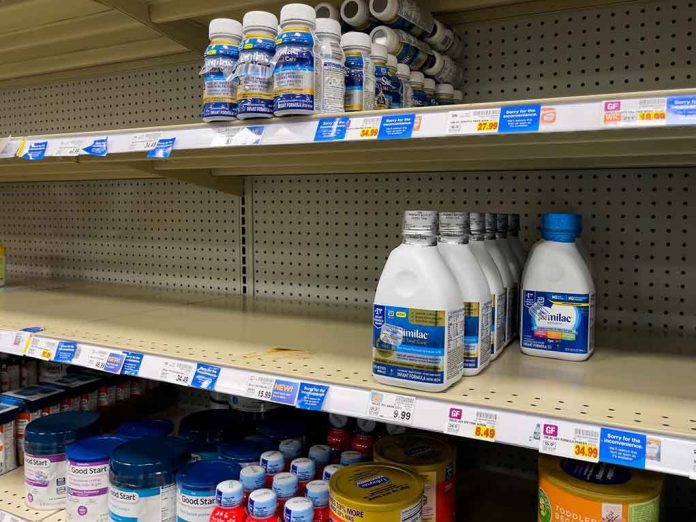 FDA Official Predicts End Of Baby Formula Crisis
(ReliableNews.org) – Parents across the country are weeks into a terrifying baby formula shortage. Multiple children have been hospitalized as a result. Fortunately, there's relief expected in the near horizon.
On Thursday, May 27, FDA Commissioner Dr. Robert Califf told the Senate Health, Education, Labor and Pensions Committee the shortage should be over sometime in July.
BABY FORMULA SHORTAGE: Speaking Thursday, Food and Drug Administration Commissioner Robert Califf said that Abbott Industries formula should be back on the shelves in June and that supplies should be completely back to normal by July.https://t.co/WGBFYxE2EP

— CBS47 (@CBS47) May 27, 2022
The Michigan Abbott Nutrition plant that closed after the government found it in violation of multiple safety protocols will reopen on June 4. By June 20, the plant should begin shipping out its EleCare formula, a specialty brand that feeds babies with severe food allergies. Previously, the company had said it would take six to eight weeks for the formula to hit shelves.
The federal government is also allowing formula imports into the US from select countries. Califf told the senators it could take two months for the shelves to be full again.
Although it might seem like it isn't that far away, parents who can't find the food their infants need will likely disagree. A Virginia mother, Alexa Beichler, recently spoke to People about what will happen to her son if he doesn't get the formula he needs. The 20-month-old has a condition known as classic phenylketonuria (PKU), a disease that prevents him from processing more than two grams of protein a day.
Without the formula, the mom said her son is in danger of irreversible brain damage. At the time of her interview, she only had a two-week supply left.
Is the formula shortage impacting your family in any way? Let us know!
Copyright 2022, ReliableNews.org