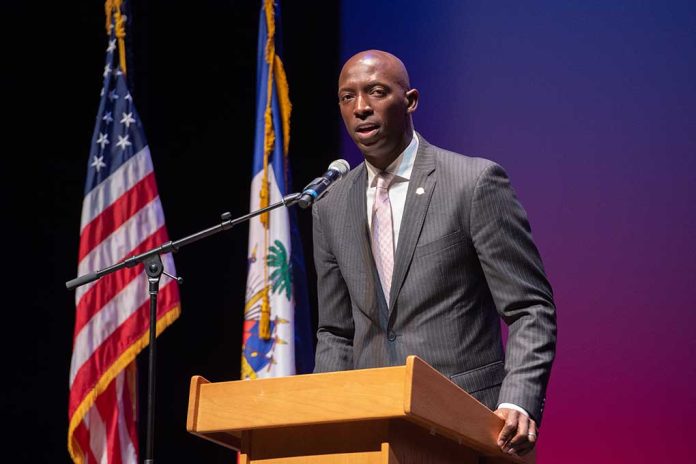 (ReliableNews.org) – In July 2021, a group of mercenaries claiming to be federal agents broke into Haiti's President Jovenel Moïse's home and shot him dead. According to the BBC, the attack was savage, and the leader's wife was shot as well, but survived. Local police at the time believed the group of murderers consisted of more than two dozen Colombians and a couple of Haitian Americans. The outlet alleged Haitian Police Chief Léon Charles believed Dr. Christian Emmanuel Sanon, another Haitian American, was behind the assassination plot, hiring the men through a company based in Miami, Florida, to take out the president.
The New York Post reported that President Moïse was accused of being a dictator who was forewarned a coup and murder plot was in the works. On February 14, the Department of Justice (DOJ) made an announcement about the case.
US Government Announcement
The DOJ in the Southern District of Florida announced they arrested four men in The Sunshine State under suspicion of participating in the assassination plot. Three were US citizens, and one was a legal permanent resident living on the peninsula. A grand jury in Florida returned an indictment against the alleged perpetrators, bringing the total number facing charges in the district to 11. Arcangel Pretel Ortiz, Antonio Intriago, Walter Veintemilla, and Frederick Bergmann appeared before US Magistrate Judge Lauren Louis in federal court for their initial hearing.
According to the indictment, Ortiz and Intriago met with Sanon and two other men already in custody — Joseph Joel John and James Solages — in Florida, where they agreed to remove the Haitian president from power and install Sanon. Reportedly, once the doctor became president, he was to award the men with contracts for infrastructure projects and military equipment. Veintemilla also thought he would benefit from a change in leadership and allegedly agreed to finance the coup. The DOJ believes Bergmann also helped fund the Columbians and worked with two other suspects to send military equipment to Haiti to be used in the plot.
Other Suspects and Consequences
The seven other suspects were previously detained dating back to the beginning of 2022 and face various charges related to the assassination. In January, Solages, Joseph Vincent, Sanon, and Alejandro Rivera Garcia were transferred into US custody. The DOJ picked up Mario Antonio Palacios in January 2022, as well as Rodolphe Jaar. Joseph Joel John was brought into custody in May of that same year.
If convicted, nine of the men could serve life in prison. The two others could spend up to the next 20 years behind bars.
Copyright 2023, ReliableNews.org