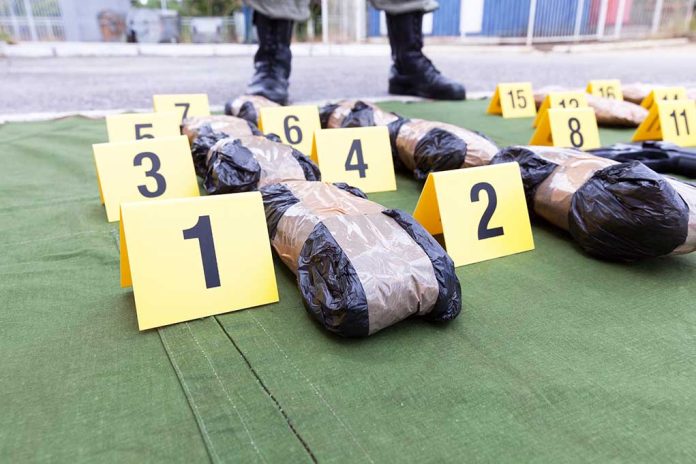 Florida Police Make Huge Drug Bust in Jacksonville
(ReliableNews.org) – Fentanyl has fueled a crisis in the US. In 2021, for the first time on record, more than 100,000 people have died from drug overdoses. Police officers have made reducing the amount of fentanyl on the streets a top priority. Law enforcement in Florida recently made a major bust.
On September 19, the Jacksonville Sheriff's Office announced the seizure of 1.26 kilos of cocaine and more than 6,000 pills containing fentanyl. The department stated that the pills contained enough of the drug to kill 1.5 million adults.
#JSO #Narcotics Unit seized 3 kilos of #fentanyl, 1.26 kilos of #cocaine & over 6,000 #counterfeit pills containing fentanyl; enough fentanyl to #kill 1.5 MILLION adults.#yourJSO #keepingyousafe #toprotectandserve #jaxsheriff #narcoticsarrest #busted #policework #saynotodrugs pic.twitter.com/lTVbQkZj5z

— Jax Sheriff's Office (@JSOPIO) September 19, 2022
A day after the announcement by Florida officers, Nogales, Arizona Port Director Michael Humphries tweeted an image of a massive seizure at the border. Customs and Border Patrol agents seized about 36,000 fentanyl pills, the equivalent of a dosage powerful enough to kill 9 million people. That's roughly the populations of Louisiana and Alabama combined.
Back in Florida, the Flagler County police seized enough fentanyl pills to kill about 10,000 people. The seizures and the sheer number of deaths that they could cause demonstrate why 18 bipartisan state attorneys general want President Joe Biden to declare the drug a weapon of mass destruction.
FL Attorney General Ashley Moody asked the POTUS about making the change in July, the other leaders have now joined her fight.
The White House has not responded to their request.
Copyright 2022, ReliableNews.org