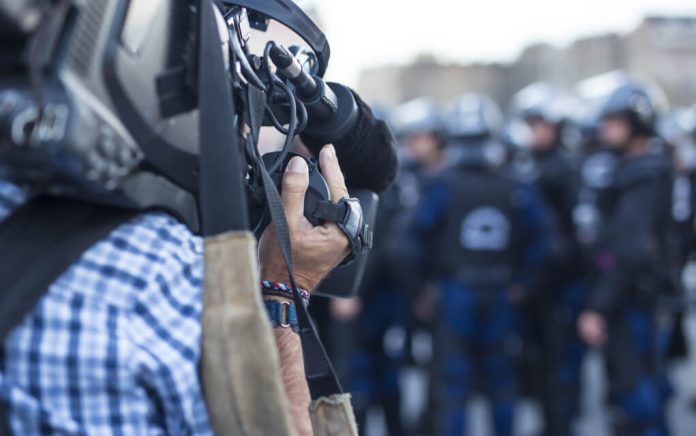 (ReliableNews.org) – In March, roughly 5,000 protesters clashed with about 3,000 police officers during demonstrations over an irrigation project in western France. Earth Uprisings (Les Soulèvements de la Terre), comprised of multiple groups, was involved in the protests. The government has now shut it down.
The activist group, Uprisings of the Earth, had frequently resorted to violence and clashes with police during their demonstrations.
The group condemned the shutdown, calling it a violation of human rights and an infringement on the French public's freedom of speech. The group's… https://t.co/SHoTzxEY3b

— Dante Rossi (@tvc1five) June 24, 2023
On June 21, Minister of the Interior Gérald Darmanin dissolved the environmental collective. He began the process of shutting it down after the March protests that left two people in comas and injured 30 officers. Darmanin's office presented the dissolution decree to the Council of Ministers. In a message on Twitter, he cited the "numerous and violent acts" that he believes the group calls for and provokes.
Comme le souligne le décret de dissolution des « Soulèvements de la terre » présenté en Conseil des ministres, « aucune cause ne justifie les agissements particulièrement nombreux et violents auxquels appelle et provoque ce groupement. » pic.twitter.com/Tao0YCiKc4

— Gérald DARMANIN (@GDarmanin) June 21, 2023
The government decree claims Earth Uprisings uses "the guise" of environmental protection to "incite the commission of sabotage and material damage, including by violence." Olivier Véran, a spokesperson for the French government, stated that "violence is not legitimate."
Lawyers for the environmental group announced intentions to appeal the decision. Raphaël Kempf, one of the attorneys, said the government lacks the "legal basis to dissolve" the collective. Earth Uprisings responded to the news on Twitter, echoing the sentiment.
Ça y est. Le gouvernement vient d'enclencher la procédure de dissolution des Soulèvements de la Terre.

Mais on ne dissout pas un Soulèvement. Tout continue. Car vous êtes, nous sommes toutes et tous, les Soulèvements de la Terre

THREAD 👇 pic.twitter.com/cPvyuy8zrX

— Les Soulèvements de la Terre (@lessoulevements) June 21, 2023
Human Rights Watch (HRW) issued a statement criticizing the government and asking why authorities didn't just continue to prosecute those bad actors. The organization went on to say it was a violation of international law and that it's another example of France's "hostility toward environmental activists." HRW pointed to an earlier report that claimed police officers immediately attacked protesters when they arrived at one of the demonstrations.
Experts at the United Nations have asked France to review its police practices after officers used teargas, stun grenades, rubber bullets, and other non-lethal weapons against protesters.
The French government stands by its decision to dissolve the collective. Véran said it's being stopped because there's a risk to public safety.
Copyright 2023, ReliableNews.org