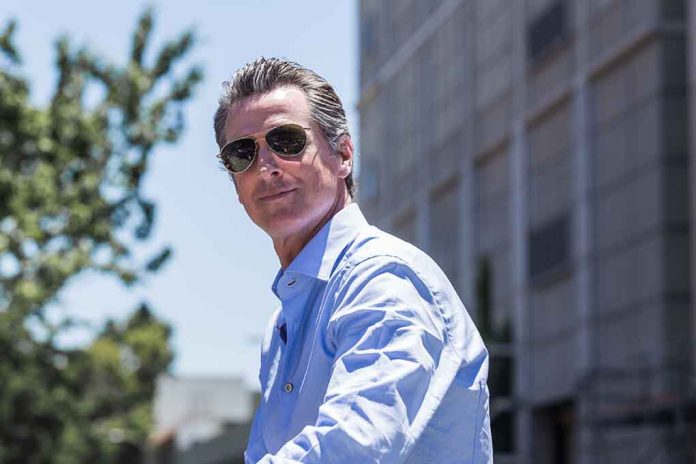 Gavin Newsom Snaps Back At Ron DeSantis In New Political Ad
(ReliableNews.org) – Florida Governor Ron DeSantis (R) has garnered a lot of headlines over the past couple of years. While he's been in power, hundreds of thousands of people have moved to the Sunshine State from elsewhere. California Governor Gavin Newsom (D) is now taking out ads attacking the GOP leader and trying to entice people to move to his state.
In a July 4 ad, Newsom spoke to residents of Republican-led states and told them their "freedom is under attack." While images of DeSantis flashed across the screen, the Liberal claimed GOP governors are implementing bans on certain books, "making it harder to vote, restricting speech in classrooms, even criminalizing women and doctors." Newsom then spoke directly to Florida residents, telling them to join him in the fight or to join him in California where freedom is allegedly still free.
DeSantis' spokeswoman Christina Pushaw responded to the ad by calling Newsom the "#1 U-Haul Salesman of 2021" and told him he isn't getting the one-way moving trucks back.
#1 U-Haul Salesman of 2021 increasingly desperate to communicate with Californians who fled his left-lib dystopia for Florida.

Sorry, you aren't getting those U-Hauls back. https://t.co/zf38MGASzj

— Christina Pushaw 🐊 🇺🇸 (@ChristinaPushaw) July 3, 2022
Pushaw was referencing a 2022 report by U-Haul that said the company ran out of inventory in California. Residents of the Golden State fled during the pandemic when Newsom put the state under strict lockdowns.
Which state do you think has more freedom: California or Florida?
Copyright 2022, ReliableNews.org