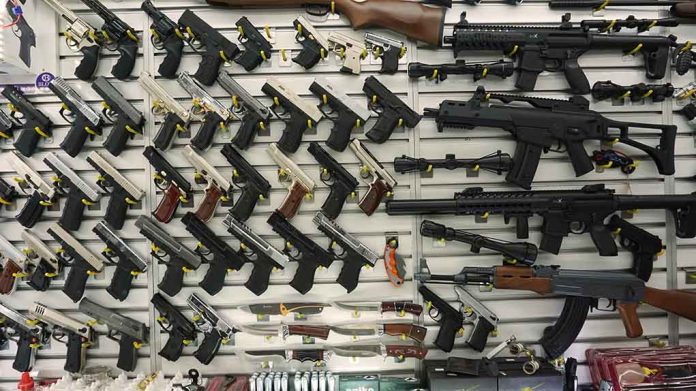 (ReliableNews.org) – Rep. George Santos (R-NY) is inarguably one of the most controversial members of Congress. The New York Republican has been under fire for months for lying about most of the resume he presented to voters in November. He's now facing a new round of criticism for co-sponsoring controversial legislation.
On February 17, Rep. Barry Moore (R-AL) introduced HR 1095. Santos and Rep. Lauren Boebert (R-CO) co-sponsored the legislation that would declare the AR-15-style rifle, chambered in a 5.56x45mm NATO round or a .223 Remington round, the US National Gun. According to Newsweek, Santos told ABC7's Eyewitness News "Extra Time" he decided to support Moore's bill because it recognizes "a gun manufactured in the United States, creates jobs in the United States, it's a made-in-America gun."
Moore released a statement on Twitter on February 21, saying the Second Amendment is just as important as the First Amendment. He went on to say lawmakers have an obligation to let Americans know they will defend all of their Constitutional rights.
The #SecondAmendment is as American a right as freedom of speech, religion, & the press.
Today I unveiled my bill to make the AR-15 the National Gun of America. We must send a message that we will meet every attack on any of our constitutional rights. pic.twitter.com/R7Yi6J10nh

— Rep. Barry Moore (@RepBarryMoore) February 21, 2023
The United States has a National Bird, National Floral Emblem, National Mammal, and other national objects. It does not have a National Gun, even though American citizens take the Second Amendment very seriously. The legislation would change that, but not everyone is on board.
New York Governor Kathy Hochul (D), who is known for her anti-gun stance, called the proposal "outrageous and appalling," according to Newsweek. She pointed out that many of the mass shootings in America are carried out by killers who use AR-15-style weapons.
Fred Guttenberg, another anti-2A activist whose daughter was killed in the Parkland, Florida mass shooting, said the country doesn't "need a national gun highlighting how our children and loved ones are slaughtered."
(2,2) Tell Reps Moore, Boebert, and Santos that America does not need a national gun highlighting how our children and loved ones are slaughtered. Tell them to shove their AR 15's up their ass and to not run away when they see me in Congress.

— Fred Guttenberg (@fred_guttenberg) February 22, 2023
Speaker of the House Kevin McCarthy (R-CA) has not said whether or not he will support the bill. Even if it passes in the GOP-controlled House, it will almost certainly die in the Senate.
Copyright 2023, ReliableNews.org