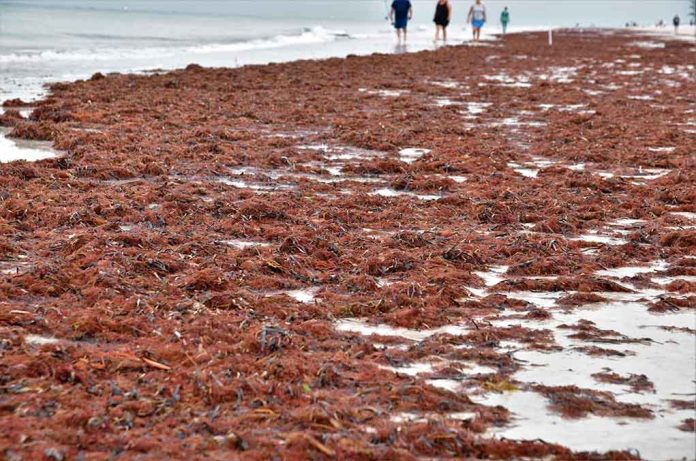 (ReliableNews.org) – It's not uncommon for Floridians to deal with a Karenia brevis algae bloom, more commonly known as "red tide." In fact, residents in the Tampa Bay Area and Southwest Florida have been dealing with the problem since October 2022. It might be about to get worse.
The University of South Florida (USF) is currently monitoring a 5,000-mile-wide Sargassum seaweed bloom east of the Gulf of Mexico in the Atlantic Ocean. Dr. Chuanmin Hu, an oceanography professor at the university, told NBC 2 that people who are in the Caribbean Sea or Florida "will see inundation events" over the next few months. The rotting Sargassum could land anywhere, from Southwest Florida to the eastern shoreline.
Professor Barry Rosen, who works at the Florida Gulf Coast University's (FGCU) Water School, said there's no way to predict whether the seaweed will hit Southwest Florida, where red tide is an ongoing problem. He said there is a "50/50 chance." If the currents blow it toward the Yucatan Peninsula, Florida might not have to deal with it at all. "The circulation patterns are really important to knowing where this is gonna go," Rosen said.
The seaweed bloom is one of the largest in history. It is nearly twice the width of the US (west to east). It can be seen from space in satellite images.
A massive bloom of seaweed could be headed toward the Florida Gulf coast. It stretches about ~5,000 mi and could be one of the largest in history. I used the Sargassum Watch System (SaWS) which utilizes four satellite sensors to make this image below. https://t.co/tmUwhmBxzo pic.twitter.com/zcVH79xi7a

— Grant Gilmore WTSP (@GrantWTSP) March 14, 2023
The Sargassum could wash ashore by the ton. Newsweek reported that more than 8,400 tons of seaweed washed ashore in a single day on Galveston Island, Texas, in a previous year. Not only is it an annoying problem, but it could also be harmful to the environment.
The large mats of seaweed could block out the sun and harm coral reefs. It can also prevent sea turtle nesting and create oxygen dead zones. When the seaweed rots on beaches, it can create gasses like hydrogen sulfide, causing breathing problems.
Copyright 2023, ReliableNews.org