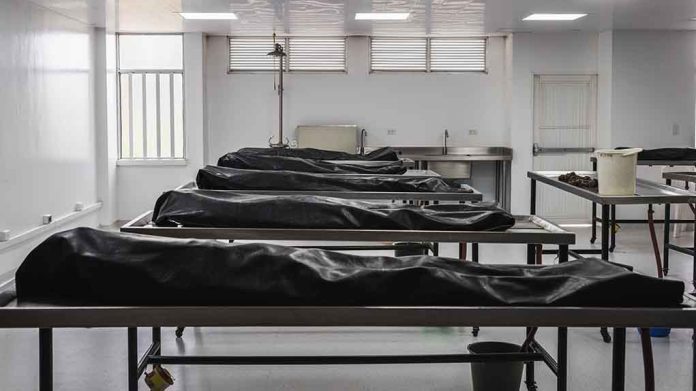 (ReliableNews.org) – In Latin America, soccer is the most popular sport. Fans take it very seriously, and stadiums are often packed during the games. That was the case in El Salvador recently when a tragedy unfolded.
On Saturday, May 20, thousands of people attended a match between Club Deportivo FAS and Alianza Fútbol Club at Cuscatlán Stadium in the country's capital of San Salvador. Suddenly, a rush happened at the stadium's southern gate. It's unclear what happened, but at least 12 people died in the stampede, and 90 others suffered injuries.
According to reports, police are investigating the possibility that the large number of fans in the stadium caused an overload on the Wi-Fi, which made it difficult for officials to scan the QR codes on tickets. Mauricio Arriaza Chicas, the police director, said there's a possibility the issue with the tickets might have caused the fans to push forward and try to get into the highly-anticipated quarterfinal match.
▶️ El Salvador soccer fans were mourning after 12 people died and hundreds were injured in a stampede at a stadium over the weekend, with the country's president vowing an investigation.

(AFP) pic.twitter.com/scchTatewS

— Voice of America (@VOANews) May 23, 2023
Salvadoran President Nayib Bukele vowed authorities would "carry out an exhaustive investigation" into what happened. He said they would leave no stone unturned, and everyone, including the "teams, managers, stadium, ticket office, league, federation," and others, would be investigated.
La @PNCSV y la @FGR_SV realizarán una investigación exhaustiva de los hechos ocurridos en el Estadio Cuscatlán.

Todos serán investigados: equipos, directivos, estadio, boletería, liga, federación, etc.

Sean quiénes sean los culpables, no quedarán en la impunidad.

— Nayib Bukele (@nayibbukele) May 21, 2023
The Salvadoran Football Federation announced the Alianza Fútbol Club was given a one-year stadium ban, meaning their games will be played behind closed doors, and ordered to pay a $30,000 fine.
FIFA, the worldwide governing body for soccer, held a minute of silence at its four matches on Sunday. FIFA President Gianni Infantino extended his "deepest condolences" to those who lost loved ones in the stampede.
El Salvador was once the murder capital of the world, but Bukele has worked hard to implement laws and regulations to make the country safer. The tragedy at the soccer stadium was a shocking occurrence in a nation that has worked so hard to make the country an inviting place to visit and live.
Copyright 2023, ReliableNews.org