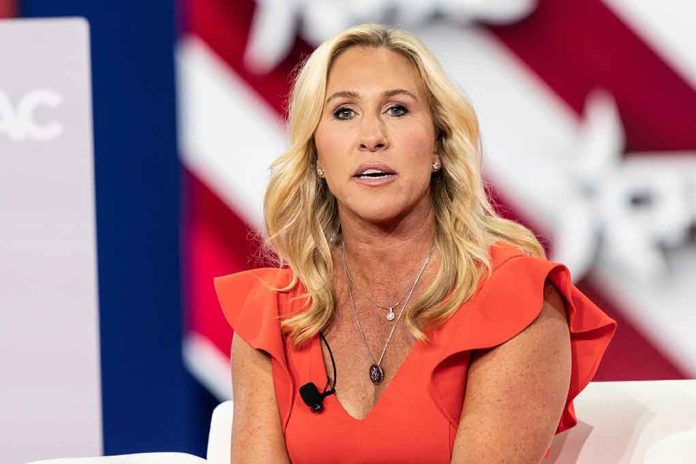 (ReliableNews.org) – Rep. Marjorie Taylor Greene (R-GA) has taken a lot of heat since joining Congress in 2020. The congresswoman has a history of supporting conspiracy theories. Her recent appointment to two major committees has caused an uproar, and one of her colleagues has come to her defense.
The House Steering Committee appointed Greene to the Homeland Security and Oversight committees. A number of people spoke out after the decision because of the congresswoman's history. For example, she has previously expressed a belief that the 9/11 terrorist attack was an inside job.
On Sunday, January 22, Rep. Michael McCaul (R-TX), who is the former chair of the Homeland Security Committee, defended Greene during an interview on ABC's "This Week." Host Martha Raddatz asked him if he thought the Georgia congresswoman should be on the committee, considering her history concerning the 9/11 theories. McCaul responded, "She has matured, I think."
The Texas Republican said he believes Greene knows that she "doesn't know everything and wants to learn." He went on to say he thinks more senior representatives should "bring her in and try to educate her" about what is true and what isn't.
Asked if Rep. Marjorie Taylor Greene should be on Homeland Security and Oversight Committees after previously embracing 9/11 conspiracy theories, GOP Rep. McCaul says, "She has matured, I think. She realizes she doesn't know everything." https://t.co/nvA1rMizYa pic.twitter.com/b6RXExFAPZ

— This Week (@ThisWeekABC) January 22, 2023
Though Greene undoubtedly has a history of believing a wide number of theories about space lasers owned by Jewish billionaires being to blame for the California wildfires, the congresswoman also once agreed that the school shooting in Parkland, Florida, was staged.
McCaul is correct that Greene has grown and distanced herself from the theories. After the House stripped her of her committee seats in 2021, she developed a relationship with now-Speaker of the House Kevin McCarthy (R-CA). Newsweek reported that in early January, the congresswoman said she was "sucked into some things [she'd] seen on the internet." She went on to say that she "never campaigned on those things" and said they are now in the past.
Copyright 2023, ReliableNews.org