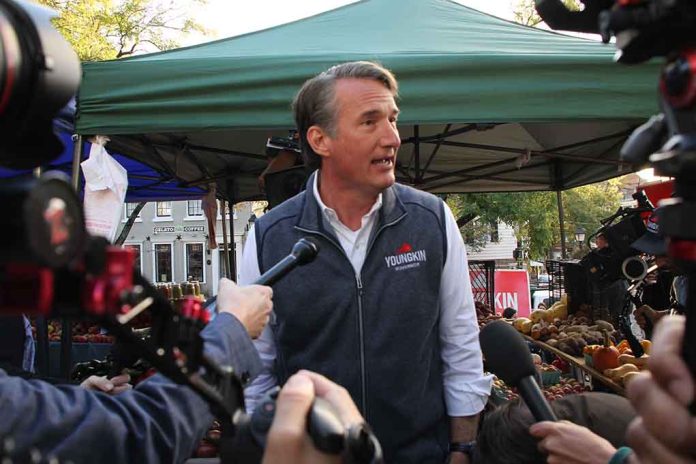 Glenn Youngkin: Here's How His First Year As Governor Is Going So Far
(ReliableNews.org) – In November 2021, Virginia Governor Glenn Youngkin (R) defeated Terry McAuliffe in the race to lead the Commonwealth. In a state that tends to lead toward the Democrats, the results were a surprising win for many. Exit polls after the race showed most people saw the economy as the most pressing issue, followed by taxes, COVID-19, and abortion. During Youngkin's campaign, he reportedly made over 70 promises to the people of Virginia. The Republican highlighted job growth, tax cuts, and education shortly after declaring victory. So, how has he fared so far?
Year One of Youngkin
The Virginia governor recently spoke to Newsmax about his first year in office. The leader stated he plans to steer the state away from Democratic policies instituted by his predecessors. By April, the new leader had signed "over 700 bills into law" to help fulfill his promises to his constituents.
During his interview with the news outlet, he explained his concerns about the children of Virginia with regard to their education. He previously vowed to make the item a priority once in office. Youngkin explained kids in the state have fallen behind due to the "extended closure of schools" across his state. He also blamed former Virginia Governor Ralph Northam's (D) policies for the educational decline.
To address some of these issues, the current leader issued a directive in August to address the "teacher shortage" and recently ordered educational standards to be among the highest in the US instead of toward the bottom. His administration put a tutoring program in place that will start at the beginning of 2023 and has invested money in Virginia schools to help them advance.
In April, the governor declared "parents matter," as he planned to put them back in the driver's seat when it comes to their kids' education. In June, he signed a measure to cut costs for Virginia residents, boost education, and reduce crime.
Other Initiatives and Moving Forward
During his campaign, the politician also promised to make The Old Dominion State a safe place to live. Youngkin told Newsmax he put hundreds of thousands of dollars toward law enforcement to give them better equipment and training, and to raise their salaries. The leader began recruiting efforts to add thousands of new cops to the payroll and reduce violent crime.
Next year, the governor said he wants to make living in Virginia "more affordable" and will establish initiatives to achieve this in both housing and education. In fact, starting in 2023, Youngkin said, "all public universities" and such will have a "flat tuition" to protect students against inflation.
How do you think the governor is doing on his promises?
Copyright 2022, ReliableNews.org