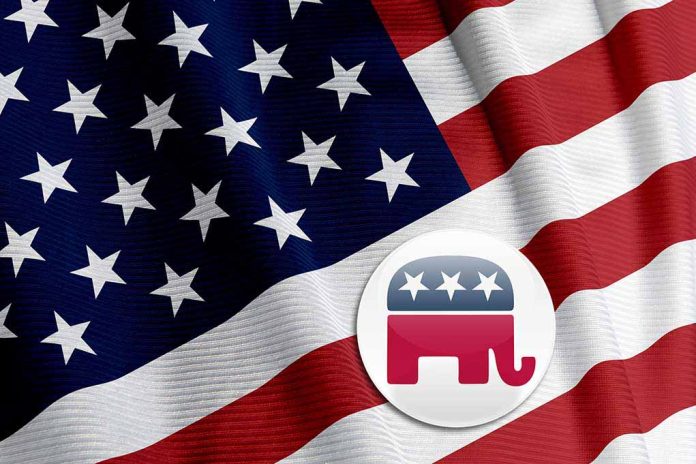 Republican Political Headquarters ATTACKED – Perpetrators At Large
(ReliableNews.org) – When President Joe Biden took the stage at a Democrat party rally late last month, he used derogatory language to describe a good portion of conservative Americans. The POTUS used the term "semi-fascism" referring to "MAGA-Republicans" as a reference to those who support former President Donald Trump. It seems someone in Florida may have taken his words too far in a targeted act of vandalism.
The "tolerant" left, everyone https://t.co/PmWlKvMvvS

— Daily Caller (@DailyCaller) August 30, 2022
On August 29, vandals spray-painted obscenities on the entryway to the building and glued the doors shut. Employees found themselves breaking into their own offices. The language of the graffiti, "eat sh-t fascists," is similar to the political rhetoric so many warned may come back to haunt the president. The vulgar statement came with a circled "A" which is the symbol for anarchy.
GOP Chairwoman Ronna McDaniel immediately condemned the senseless vandalism on Twitter, placing the blame squarely on Biden's words:
The Seminole County GOP office was vandalized overnight. The criminals echoed Biden's "fascists" slander.

There is no place for violence in our political discourse, and the GOP will not be intimidated. pic.twitter.com/fmiiMVmi0t

— Ronna McDaniel (@GOPChairwoman) August 29, 2022
McDaniel notes that extremists won't intimidate the GOP. She told the Daily Caller that promises from the Left to unite the country were a lie. "Republicans will not be silenced by cowards," she said, "this will only make us work harder to propel Republicans to victory come November." The vandals never gained entry to the building, and nothing was stolen, but their message was clear.
Copyright 2022, ReliableNews.org