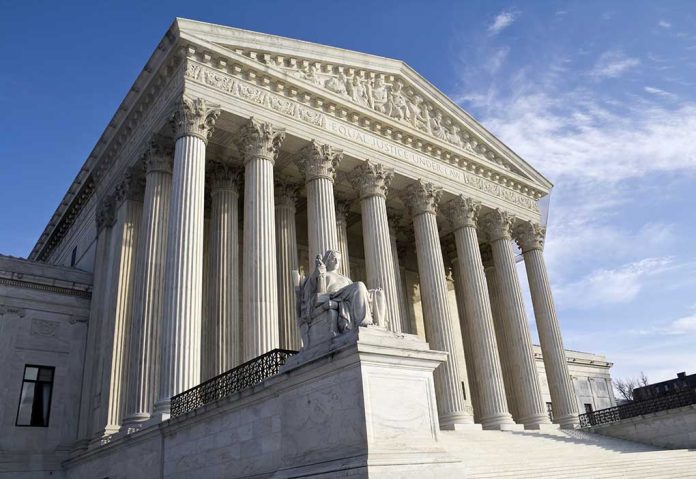 The Supreme Court Is FINALLY Deciding These Important Issues
(ReliableNews.org) – The Supreme Court's yearly recess typically begins in late June or early July; it reinitializes the following October. However, before the justices depart, they must hand down any opinions still in review. Some 30 cases remain on the roster for 2022, just one month before the next recess begins. While almost all involve hot-button or controversial topics, all have the potential to profoundly impact the American people.
Abortion Rights
SCOTUS is currently reviewing a major case involving abortion rights. All nine justices are investigating and testing a Mississippi law that bans abortions past the 15-week mark of pregnancy. It directly contradicts Roe v. Wade (1973).
To resolve the issue, SCOTUS could decide to overturn abortion rights on the federal level, granting states the right to decide on the issue individually. A leaked draft opinion signaled that SCOTUS was likely leaning toward overturning the 1973 case in favor of Mississippi.
Second Amendment
SCOTUS is also currently reviewing a high-profile Second Amendment rights case titled New York State Rifle & Pistol Association Inc. v. Bruen. It directly challenges New York state laws requiring anyone who wants to conceal carry a handgun outside of their home to establish a compelling reason. If SCOTUS rules in favor of the gun association, it could become easier for citizens to carry firearms in the Big Apple.
Religious Expression
Carson v. Makin, a religious freedom case out of Maine, also remains on the docket for the current session. State programs allow some students who lack access to public schools to use government funds to attend private institutions instead. Unfortunately, benefits do not include schools requiring religious instruction; some say that flies against the US Constitution. The Supreme Court's role is to determine whether the program must include religious schools.
Immigration
Two major cases involving immigration currently sit before the courts. The first, Biden V. Texas, pertains to the Migrant Protection Protocols policy from 2019. Often referred to as the "Remain in Mexico" policy, it allows the government to send migrants back to Mexico while awaiting immigration processing. President Joe Biden wants to end the practice; SCOTUS will decide if he can.
The other immigration case determined whether or not the Biden administration had the right to follow the "public charge" rule when deciding green card eligibility for migrants. SCOTUS ultimately ruled in favor of the President on June 15.
Each case before the Supreme Court has the potential to impact life in America. While Roe V. Wade may be the most highly-publicized and widely discussed of all current proceedings, that doesn't make other proceedings any less important. SCOTUS' rulings play a critical role in both forming and guiding US law.
Copyright 2022, ReliableNews.org