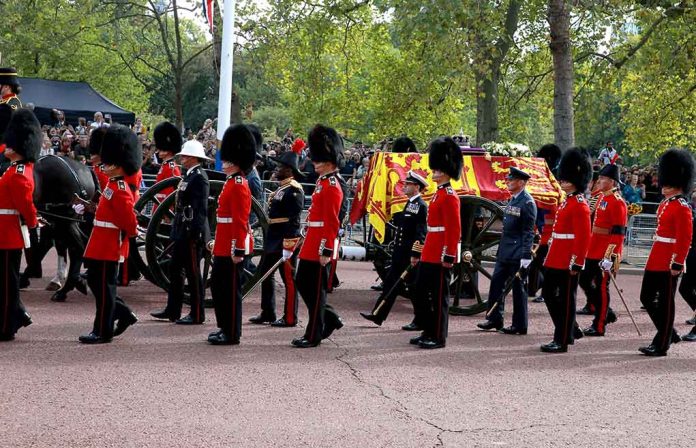 Some World Leaders Have Been BLACKLISTED From Queen's Funeral – You Won't Believe Who
(ReliableNews.org) – Queen Elizabeth II died on September 8, after more than 70 years on the throne. The 96-year-old was admired around the world. On September 19, her funeral took place at Westminster Abbey, the same place where she was crowned in 1953 and married her late husband, Prince Philip, in 1947. The somber occasion drew leaders from around the world.
President Joe Biden and his wife, Jill Biden, attended the event. The US POTUS first met the monarch when he was a US senator in 1982. His last visit with her was in 2021, months after he was sworn into office. Throughout her reign, she got to personally meet 14 American presidents, aside from 15 prime ministers within her own country. Unfortunately, however, past presidents were not invited to attend the funeral, including the Obamas and the Trumps. Reportedly this was due to a lack of sufficient capacity for guests.
Across the seven decades of her history-making reign, Her Majesty Queen Elizabeth II met 14 American presidents.

The thoughts and prayers of the Biden-Harris Administration and people all across the U.S. are with the people of the U.K. and the Commonwealth in their grief. pic.twitter.com/xdwh9rZ9ZE

— The White House (@WhiteHouse) September 8, 2022
In addition to the Bidens, Canadian Prime Minister Justin Trudeau, French President Emmanuel Macron, First Minister of Scotland Nicola Sturgeon, and Irish President Michael D. Higgins attended.
Several countries with a strong dictatorial presence were excluded from the event, including Russia's Vladimir Putin (due to the ongoing war in Ukraine), leaders from Myanmar, Belarus, as well as from North Korea.
Prior to the funeral, it was announced that almost all of the 200 people who were recognized at the Queen's Birthday Honors in June would attend, though it's not clear how many did. Also, King Willem-Alexander and Queen Máxima of the Netherlands, Queen Letizia and King Felipe of Spain, Queen Mathilde, and King Philippe of Belgium also attended.
Queen Elizabeth was laid to rest next to her beloved husband of 73 years on the ground of Windsor Castle.
Copyright 2022, ReliableNews.org